It's hard to tell at first glance of this card if Johnny Klippstein has just thrown a fastball or is watching one sail into the outfield during his batting follow-through. I think he is pitching, but the alternative is possible given that he originally made his way into minor league ball as an outfielder at the age of 16.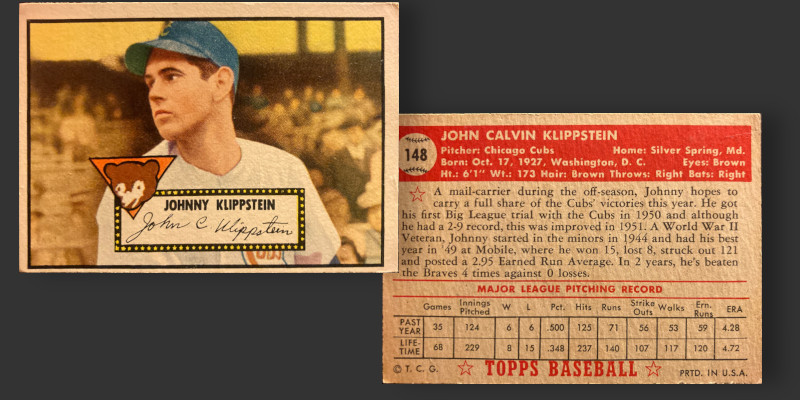 The text on the back of the card leads off with the one Johnny Klippstein fact that has always stayed with me: He was employed as a mail carrier when not actively pitching in pro-ball. Many ballplayers had winter jobs, and Klippstein is not the only mailman to appear in the set. I like to imagine him whistling and delivering mail through the snow while wearing a Chicago Cubs hat.
This particular example is one of the higher grade 1952 Topps in my collection. The card is in excellent condition and ended up as part of my set almost by accident. I had placed bids for multiple cards from an eBay seller that offered to combine shipping charges on bulk purchases. The bids were placed with only minutes to go before the auctions closed, but by the time the electronic gavel dropped the Klippstein card was the only one not picked off by other buyers.
As a player, Klippstein was a bit below average. However, as a member of the Chicago Cubs and several other lower-ranked clubs, this elevated him to the upper tier of either the starting rotation or bullpen. A fastball pitcher that came close to pitching two no-hitters, he was nonetheless plagued by extensive wildness in his breaking pitches. He made up for the ineffective sum of these opposing traits with an ability to keep performing at the same level for decades. He began his professional career prior to the Allied invasion of Normandy and continued to throw until the outbreak of the Six Days War.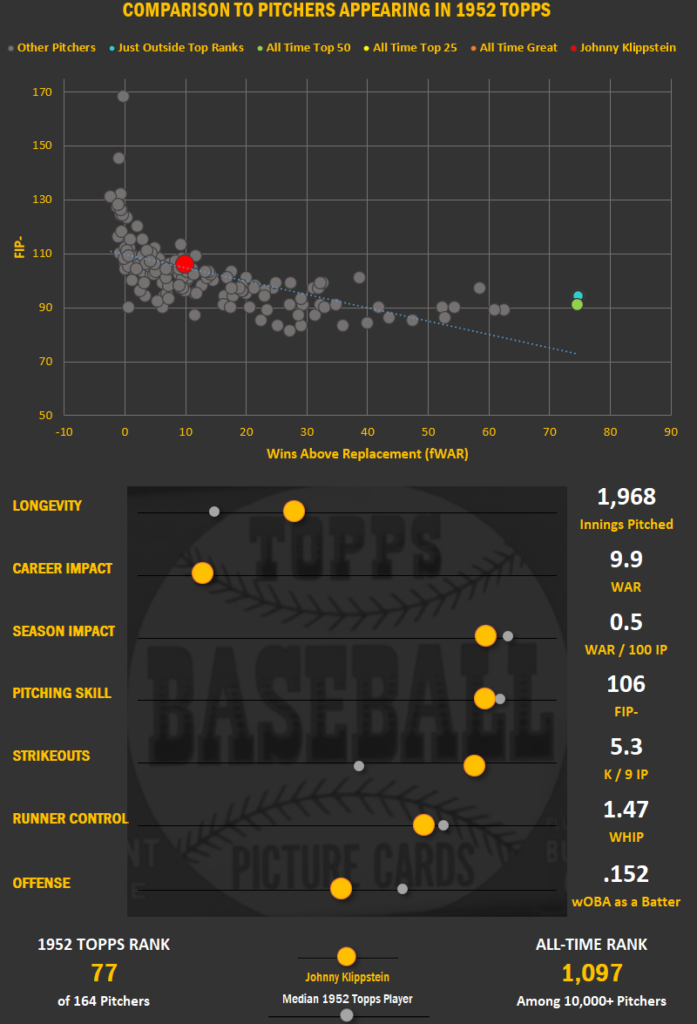 Favorite Non-1952 Topps Klippstein Card
For many common players appearing in the set, their 1952 Topps card is the one most sought after by collectors. That rule of thumb may not hold up for Klippstein. His longevity prolonged his career and brought about appearances in a parade of Topps issues well into the next decade. Aside from Hoyt Wilhelm I can't think of another pitcher in the set that saw his role extend so late into the 1960s.
Klippstein's final regular issue Topps appearance came in 1967 as a reliever for the Detroit Tigers. By this time he was in his 18th MLB season and playing for his 8th team. As a late addition to the roster at the conclusion of Spring Training he was skipped over in Topps' first series of cards. He was released the next month after only a few innings of work, seemingly keeping him out of the Topps set. When the season wound down the company found itself needing a handful of cards to fill out its low-demand high number series. With a Spring Training photo in hand, Topps' designers called Klippstein out of the bullpen for one last appearance. He appears on card #588, one that may or may not be subject to some of the vagaries of Topps' late season printing habits. Regardless, the card is much tougher to find than a "normal" 1960s baseball card in what is generally regarded as the hardest set of the decade to complete.