There have been 318 no-hitters in MLB history. 25 of these games featured scoring by the hitless team with 2 actually pulling off a win over the team with dominant pitching. Both of these games came in the low offense 1960s, though one no-hit victim tried his best to create the first no-hit win in a 1951 game. Johnny Lipon was a light-hitting shortstop for the Detroit Tigers with marginally above-average defensive ability. His 1952 Topps card shown below diplomatically calls him an "acrobatic" fielder rather than comment on the effectiveness of his plays.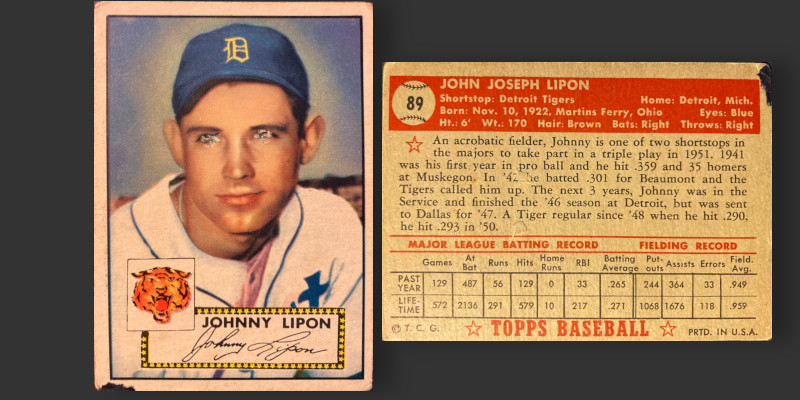 He was facing the Cleveland Indians with Bob Feller on the mound. Feller already had a pair of no-hitters under his belt and was on his way to a record-tying third. Lipon came to bat in the fourth inning and reached first base on a fielder's error. He advanced to second with a stolen base. Feller became nervous as the exaggerated leg kick of his pitching motion provided ample time for runners to take off. Fearful of Lipon taking another base, Feller tried to pick him off at second. The ball sailed past the second baseman and Lipon scampered to third. The pitcher's attention returned to Hoot Evers who was waiting for his pitch at the plate. Evers hit a fly ball that was easily caught, but he had launched it far enough to allow Lipon to tag up and score. The game remained tied 1-1 until Cleveland pulled out the win with another run in the bottom of the 8th.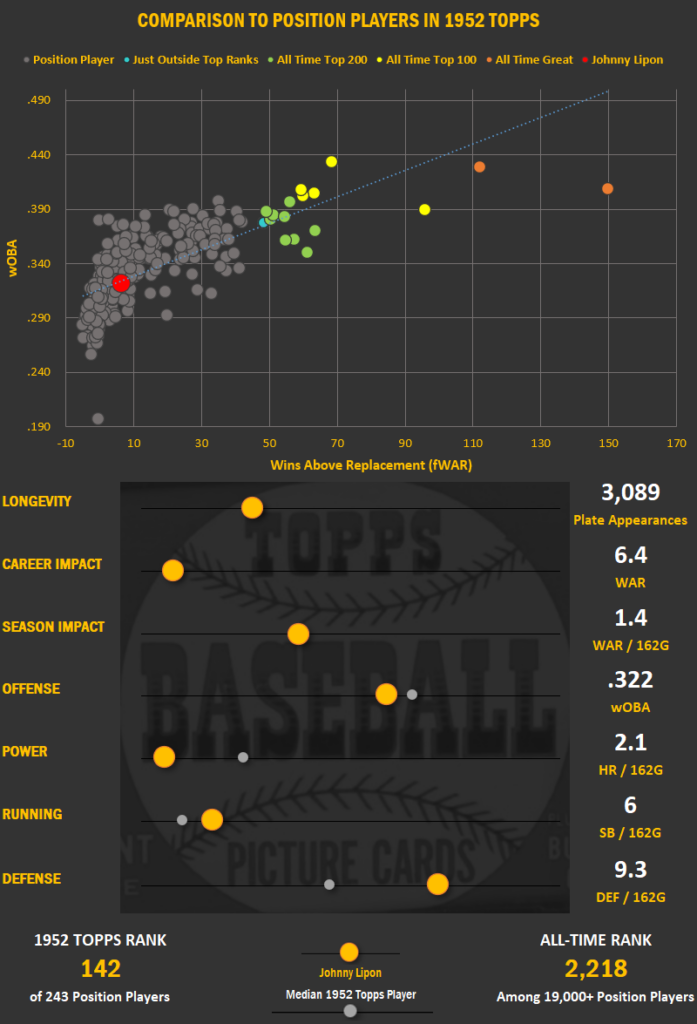 Lipon followed up his one-man battle against Bob Feller with a 30+ year career managing various minor league baseball teams. Feller's Cleveland Indians even brought him onboard to manage the big-league club for a few dozen games in the early 1970s.
Another Johnny Lipon Card to Check Out
I will admit the following card is not the definitive Johnny Lipon card, but it is close. The best card is probably one of his early 1990s minor league manager cards as he spent nearly three decades at the head of a parade of teams.
Since I tend to focus only on Major League cards, I want to draw your attention to Lipon's 1953 Bowman Color card #123. It features the shortstop "fielding" a ball at Yankee Stadium, though his eyes are on the camera and not the ball that is nearing his closed glove. As a manager he would probably have a few things to say about that technique.