Dale Mitchell struck out looking for the final out of Don Larsen's perfect 1956 World Series game. What is so interesting about this fact is not that Larsen had just made history, but rather that anyone could get a strike past Mitchell. He rarely struck out, whiffing just 119 times in 4,357 career plate appearances (about 1 SO every 10 days of full time play). In 1952 he struck out only 9 times in over 500 trips to the plate. Mitchell always maintained that Larsen's final pitch was a ball, and given his trained eye I am inclined to believe him.
His low strikeout rate made him a good bet in pinch hitting situations, which is how Cleveland's management preferred to employ him in the lineup. The team's strategy revolved around giving younger players the ball more often to encourage player development. Mitchell's batting skill (.312 lifetime batting average is equal to Manny Ramirez) and top 10 all-time walk to strikeout ratio would have made him a core offensive fixture on any other team.
Mitchell hit 23 triples in 1949. Only Curtis Granderson in 2007 has been able to reach that level since. He ranks outside the top 500 in career triples, so there is a bit of randomness in that one year. More playing time would have certainly helped his case for the Hall of Very Good. A SABR Biography project recounts how he missed 7 years of playing time due to a contract dispute, years that undoubtedly would have burnished his credentials.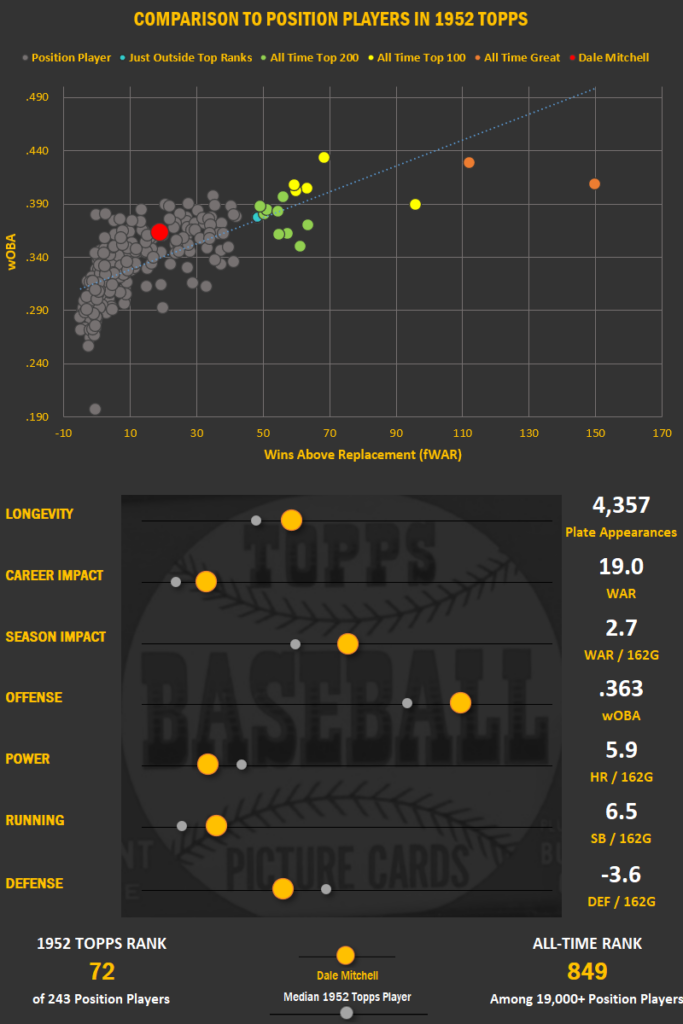 Dale Mitchell Cards Have Great Photography
Most postwar baseball cards have fairly uninspiring photography. Many shots are standard, just a guy in a halfhearted defensive pose or a mugshot taken against the backdrop of a training field. Dale Mitchell collectors have much richer cardboard to explore.
As an example, look at his 1949 Bowman rookie card. It shows an upper body picture of Mitchell in his batting stance. The photo is shifted right of center, giving the impression that there is some action taking place in the direction of the pitcher. The Cleveland uniform he is wearing has just the right amount of team colors and omits the tiresome Chief Wahoo logo. This is how a baseball card is supposed to look.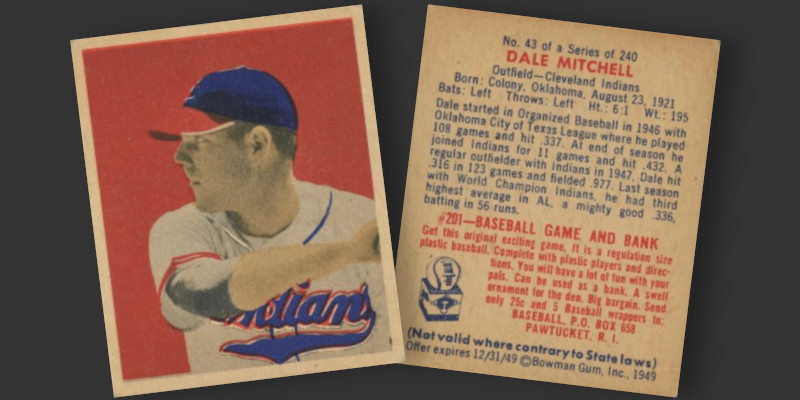 Mitchell's 1949 Leaf rookie went the other direction, putting a poorly printed mugshot against a yellow background. Leaf exited the baseball card business soon after, and I can only assume Topps took note of the poor photo selection of its failed competitor when designing the '52 set. Mitchell is card #92 and is pictured taking a practice swing while looking at the camera. The background is as much the subject as Mitchell is, showcasing the lines of a classic ballpark. It's an absolutely fantastic card of a wonderful player.