Sometimes you look at a baseball card and think, that guy reminds me of someone else. I got that feeling whenever I saw a Doug Drabek card as he bore a resemblance to Robin Yount. Of course, Yount was an American League hitting machine on his way to 3,000 hits while Drabek was an award winning pitcher in the National League. They actually faced off against each other three times in their careers with Drabek keeping Yount off the basepaths in each plate appearance.
Yount wasn't the only one having difficulty hitting against Drabek. Twice he came within a few outs of throwing no-hitters, only giving up hits in the ninth inning during games in 1988 and 1990. Cal Ripken went 0-14 against him during his career.
Drabek somehow only made one trip to the All-Star Game (1994) despite winning a Cy Young Award (1990) and putting a run of capable pitching from 1988-1995. When he appeared in the 1993 Finest set his record wasn't helped by representing the Houston Astros, a team that averaged finishing 20 games behind first place for four years in a row. Drabek's 1993 record was 9-18, despite producing 4.2 WAR for the season. I guess Houston would have been 5-22 during this stretch without him.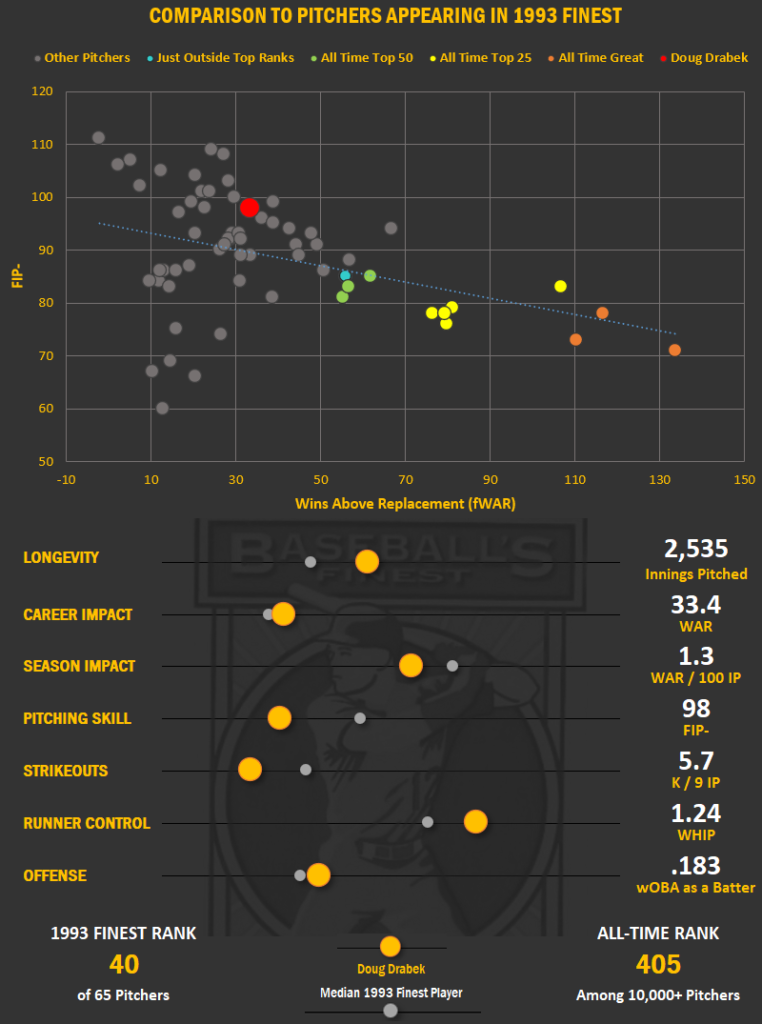 Baseball Reference has an interesting tool called similarity scores. It compares the lifetime statistics of any player and finds the next ten athletes with stat lines that most closely match. Each player has a score, ranging from 0-1000 with higher numbers indicating a closer match. Jim Longborg, a player from the 1960s and 1970s, is the closest match and is not one I am not very familiar with. I am, however, more in tune with Jake Peavy (6th closest match), Andy Benes (8th), and Bronson Arroyo (10th). These are all quality pitchers who had a few standout years and otherwise formed the middle of the rotation for solid pitching staffs. That's who Drabek reminds me of, the kind of pitcher that would show up and win a ballgame without breaking a sweat when the team's All-Star wasn't scheduled to take the mound.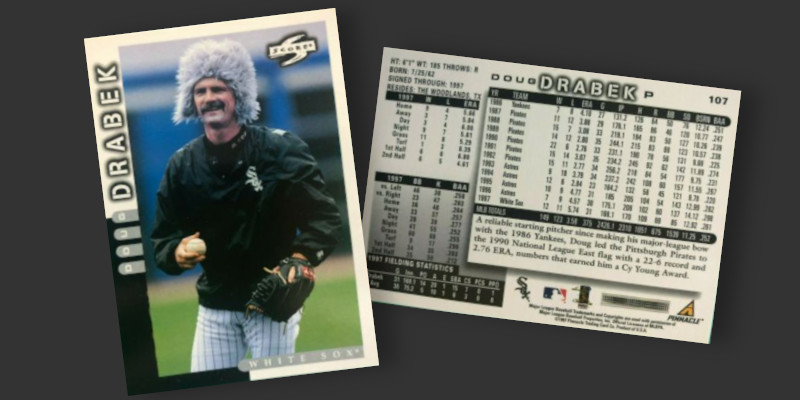 The Most Fun Anyone Had in a Chrysler Conquest
Drabek was the victim of a hidden camera prank during his time in Pittsburgh. Catcher Mike Lavalliere, team personnel, and off-duty police officers all teamed up to fill the trunk of his Chrysler Conquest with baseball equipment. When Drabek went to leave the stadium they stopped his car and searched it, finding all the "missing" equipment and making things look legally precarious for the pitcher. The whole incident is available on video via a seemingly inactive YouTube channel.
Making the Finest Checklist
Topps had good reasons to include Drabek in the '93 checklist. At this point in his career he had been the pitching ace of a Pirates team that had nearly made the World Series several years in a row. A career ERA of just 3.11 was lower than what Nolan Ryan, Greg Maddux, and Tom Glavine had at the time.