I picked up this creased 1952 Topps card of Sheldon Jones from a common bin at a local card shop last year. The photo used on the card is popular, making an appearance on Exhibit cards, Jones' 1952 Berk Ross card, and four consecutive Bowman issues in 1948-1951.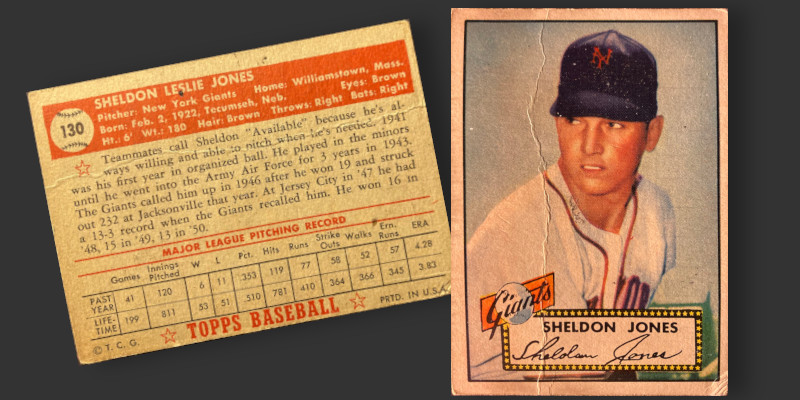 While Topps didn't make any apologies for recycling an old photo of the Giants' pitcher, it is an apology from Jones that I find most interesting. Pitching against the Dodgers in a summer 1950 game, Jones was ordered to bean Brooklyn right fielder Carl Furillo. He did as manager Leo Durocher demanded, nailing Furillo in the head and sending him to a hospital. The next morning he visited the still-hospitalized batter and apologized for the incident, saying he was only following orders. The brooding Furillo tucked that information away and attacked Durocher during a game three years later.
By the time of Furillo's revenge Jones was already in his final season. Able to pitch effectively only in shorter bursts, he spent his career shuffling between starter and middle relief roles. While not a standout player, he remains a key part of the Dodger/Giant rivalry that took off in the 1950s.