This year I replaced my baseball cap with a new one after almost 15 years of use. The new blue and white Philadelphia Athletics cap has generated a good deal of commentary from the people I meet, particularly unsolicited quips along the lines of "sorry about your team."
The hat caught the eye of a guy pulling into the parking lot of an AutoZone while I was running an errand. It turns out he played in AA baseball in the Brewers' farm system during the late 1970s and early 1980s. While he never made it to AAA or the majors, he did pitch for several years and was proud of posting a winning lifetime W-L record.
CardBoredom.com
I recently surpassed 350 posts, so the website is beginning to somewhat match the current state of my card collection. I will still be adding new write-ups faster than I add cards through the end of the year and hope to give the whole thing a more "real-time" feel by the time 2024 rolls around.
The checklist for 1952 Topps cards was finally built out, bringing better graphics and up to date status information to this work in progress. The refractor dashboard has also been reworked to provide a better overview of the set. I have automated some of the underlying data analysis and incorporated 36-month rolling reviews. The resulting output is at last in a form that I am please with and comfortable sharing with other collectors.
New Additions
So what has been added to the collection since the last update?
1952 Topps: A dozen commons were added to the set, taking overall completion of this project to 56% of the 407 names in the checklist. I fat-fingered a last second eBay bid for the lone high-number in the group and ended up "winning" the auction. This card inadvertently became the third '52 Topps card in my collection to break the $100 mark. The fourth to get this designation followed a few weeks later when the Chantilly card show rolled around (more on that in a moment).
1993 Finest Refractors: I returned a Greg Maddux card to an online seller after discovering it was mislabeled as a refractor. An acceptable Willie Greene card was obtained in June, bringing the total number of cards needed to complete the set back down to 3.
1949 Leaf: I added four cards, bringing the current set completion status past the 10% mark. Three of these were commons, including my first short print. A Ralph Kiner rookie joined over the past weekend. While I won't have it in hand until July, it represents the first star player in this project.
Other Cards: I came across a handful of Jose Canseco cards and tucked them away with the rest of my collection. These included some harder to find items and I'm kicking around the idea of putting together a larger run of these cards after completing some set building projects. For now they're in my card box and will be revisited later to see if I still want to pursue them any further.
I impulse purchased more than one third of the 1953 Topps set. This is a fascinating set that always gets me to stop and look when I see any on display. These particular examples had all been trimmed by a previous owner with most appearing Near Mint at first glance. I don't know what the long term plan is for these, but they're a blast to have around.
A pair of smaller items were added at the Chantilly card show.
Chantilly Card Show Report: I Recommend Eating Something Before You Go
Last weekend I attended the Chantilly show, one of the largest regular East Coast card shows. What is great about it is the presence of 100 or dealers spread out across 300+ tables of display space. The major auction houses are also there, bringing key items from upcoming sales and making this much like walking through a baseball card museum. I counted 8 different 1952 Topps Mantle cards and may have even missed a few. Past experience has shown a good number of discount bins would be available with dealers willing to stock vintage commons for set builders like me.
Aside from seeing some amazing cards stored safely behind drool-proof glass, what was the big impression from this show? I came away convinced that condition has no meaning for the majority of the people manning the vendor spaces. Many, many, many tables had low to mid-grade material with sticker prices reflecting that of top-level cards. For example, one of the more established dealers had a box of 1952 Topps cards marked as "50% lowest sticker price." In this box I came across a Richie Ashburn that slots solidly into the Very Good condition category with a couple slightly rounded corners and acceptable centering. That's a great card of a (usually) affordable popular 1950s player. In this case the dealer was asking $147.50 (half off the $295 sticker on the holder). That price is 2-3x the observed online prices for PSA and SGC graded examples in the same grade.
I use this card as an example, not because the price was so high relative to readily obtainable alternatives, but because the same experience seemingly played out at table after table. Looking for low grade commons? Be prepared for prices of $15 or more for cards with round corners and creases. Looking for something with a sub-$10 sticker? Most of what I found at that price point had mold growing on it or pieces missing. One dealer I spoke with asked $240 for a trio of middle series commons with creases and damaged backs. He looked visibly upset when I suggested the best card in the group could only be considered at best to be in Good condition and offered a generous $25 for the group. The offer was not accepted and I left him to angrily hawk 1990 Fleer wax packs to passersby at $2 each.
Older unopened material was mixed. A couple tables had pretty high quality early 1980s boxes at reasonable prices (reasonable for the era, they were still well into the triple digit price range). Authenticated material was present at BBCE's booth as well as from several additional dealers. Prices have come down noticeably from last year's level but that BBCE shrink wrap still commands a cost prohibitive premium. The absolute worst junk wax (the fun stuff) was once again available in quantity but asking prices for things like 1991 Donruss had ballooned from $10/box to $25-$30.
Despite these setbacks, there were some minor wins. I found two 1952 Topps cards worth adding (Eddie Stanky and John Berardino). For being the first person of the day to mention the A's, I won a door prize from a dealer giving away a slabbed Max Muncy rookie card. I gave it back so another fan could have a shot at the card as this is not a collecting focus of mine. Still, it was a unique diversion and something that I hope to see more of. A vintage collector named Tom Botticelli was probably the best vendor I encountered during the trip. I really enjoyed reviewing his table and picked up a great 1934 Goudey Carl Hubbell. This card was the highlight of the trip and really saved the day.
Attending this event involves 7 hours of driving and burning a little vacation time so I have high hopes whenever I put on my A's cap and head in that direction. It's a big show, one that has provided successful trips in the past, so I had approached it with the goal of putting a significant dent in my ongoing set building projects. After a couple hours and with only three cards filling the empty space in my backpack, I headed dejectedly out to the parking lot and considered the possibility of skipping shows like this until some sense of normalcy returns. I mulled over these thoughts at a terrific Peruvian restaurant two doors away. After putting away a gigantic serving of lomo saltado, I realized part of the gloom was just the effect of being physically exhausted and hungry. After an hour and half I walked back into the show with the goal of simply being a tourist in a card museum.
Things were much better at this point. Sure, off-grade Minnie Minoso rookies were still $400, but I didn't care anymore. I found a common bin that I had initially missed and discovered a half dozen needed 1952 cards priced around $5 each. These cards were left over from what had been a much deeper inventory at last year's show, but it proved the day wasn't a total set-building bust. A discussion of old ticket stubs yielded some really interesting stuff being brought out for a closer look (ex: a ticket from Shoeless Joe Jackson's last regular season game). I even found (and purchased) a card of a relative that briefly played in the majors. I saw Chris Sewall (Youtube's Baseball Card Collector Investor Dealer, in that order), who was kind enough to pose for a photo with my wallet card.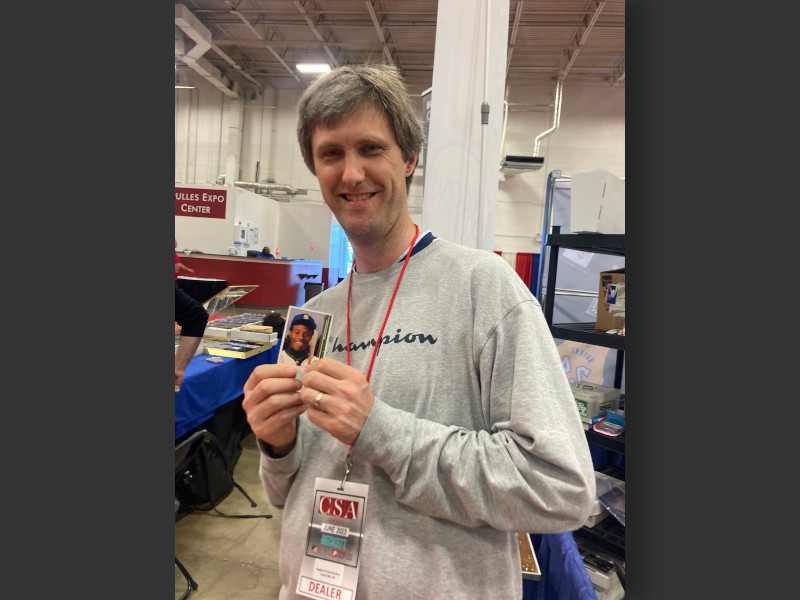 Having spent a few less stressful hours in my second tour of the show, I headed home. Over the course of the ensuing drive, I thought about the experience and decided to step back from long distance shows as a way of actively building my collection. In retrospect the Chantilly show was a good event to visit, though not one I can justify expending so much energy to attend. Maybe I'm just getting hungry again and need a snack.
Epilogue: On the Topic of One More 1952 Topps Addition
At the show I had seen several big cards I hope to eventually obtain. Aside from the 1952 Topps Mantles, which play by their own rules, there was a substantial premium added to the dealer pricing of many of these other cards.
The day after I returned home I turned my sights towards one of the biggest cards from my want list. One of the larger auction houses was conducting their summer auction and had four examples in varying low grade conditions. I purchased the card the way it should be done: In silence. Online. Drink in hand. Shirtless. Still wearing my A's cap. Close to midnight I welcomed the latest addition to the collection at a price well over $1,000 below the lowest quote from the show: