The second verse of Terry Cashman's song Talkin' Baseball (Willie, Mickey, and the Duke) includes the phrase "The Thumper and Mel Parnell" in reference to a pair of Boston Red Sox players. In the early 1950s the pair, Ted Williams ("Thumper") and Mel Parnell, were synonymous with the ups and downs of Boston's American League franchise. The pair were close and spent the latter half of the 1940s as roommates in a three-story residence in Brighton, MA.
Of course, it wasn't just friendship with the Splendid Splinter that kept Parnell in the big leagues. He was a dominant pitcher in his time and been a starting pitcher for at the All-Star Game. He finished 4th in MVP voting just a few years prior to the production of his 1952 Topps baseball card. Parnell played only 10 years but recorded one of the highest lifetime ratios of WAR per innings pitched. Despite striking out less than 4 batters per 9 innings, his Fielding Independent Pitching metrics are better than Fergie Jenkins, Jim Kaat, and Warren Spahn.
Parnell was good, ranking in my personal assessment as the best hurler outside of the set's top 10% of pitching talent in a very close call. All that kept him out of a higher ranking is the brevity of his career. He pitched his last game in 1956 and underwent elbow surgery, never making it back to the mound. However, he didn't just disappear in that final season. Playing hurt that year, his name appeared in newsprint next to the phrase "washed up" on at several occasions. He prompted editors to reconsider their assessment by throwing the first Red Sox' no-hitter in over 30 years.
1952 Topps Mel Parnell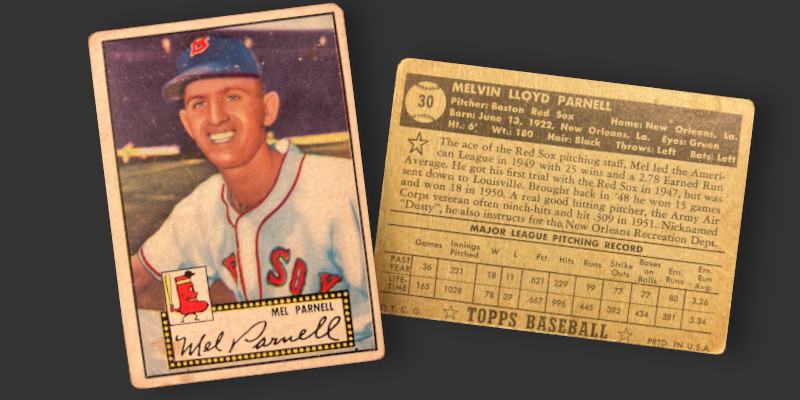 Here is the Mel Parnell card that resides in my in-progress 1952 Topps set building project. The nameplate gets a unique look with the printed text of Parnell's name fully aligned to the right rather than centered as on most other cards. This particular example has almost perfectly round corners like a playing card. The colors look a bit washed out, partly because this is an early 1950s colorization of a black & white photograph and partly because colors did not print as vividly on the black backed variations of First Series cards. Close examination reveals the card's color registration is a bit out of line. When zooming in you can see the red, yellow, and blue printing are not perfectly aligned, producing a slightly fuzzy image. The team logo in particular looks terrifying upon close inspection. The Red Sox "Sock" looks like it is swinging a bat with bloodshot eyes.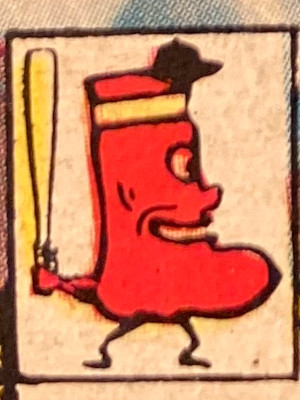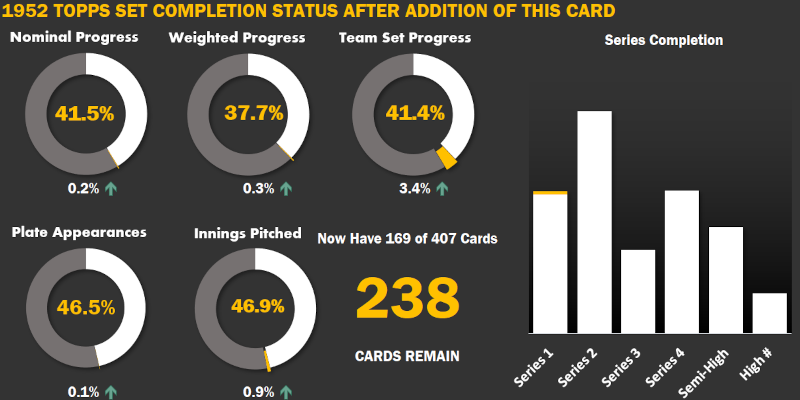 Another Real Estate Fact: Mel Parnell and fellow First Series 1952 Topps checklist inhabitant Howie Pollett were next door neighbors in their hometown of New Orleans.