This has been a fun baseball season. Paul Goldschmidt put together a serious run at the National League Triple Crown, only to see the likelihood of nabbing the honor slip away as the season entered its final weeks. Aaron Judge has (so far) launched 61 homeruns and in the process put himself near the lead for each of the American League Triple Crown categories. Shohei Ohtani continued to make his case for renaming Babe Ruth as "the American Shohei Ohtani," going as far as taking a no-hitter into the 8th inning in a game last night.
Fireworks haven't been limited to just the field, either. Within the card collecting hobby there were several notable sales making the news, led by a record setting $12.6 million auction of a high grade 1952 Topps Mickey Mantle. A T-206 Honus Wagner sold for more than half that amount the prior month and two more had sale signs emerge around them. Several high-grade '93 refractor sets were broken up, leading to favorable conditions for those looking to snag tough to locate cards.
More Than Five Dozen Refactors Acquired
When I last provided an update on the status of my collection, I noted that one of the finer complete '93 refractor sets was in the process of being broken up. Another high-end collection soon joined the public marketplace, seemingly freeing up cards for collectors looking to upgrade their own holdings. I made a few opportunistic purchases, most notably landing a Rickey Henderson card. Henderson is one of the best players in the set and one I really wanted. My experience has been that his cards don't stay available very long given the tremendous interest generated by a devoted group of player collectors. After adding my seventh refractor since the end of June, I thought there was no way I would find much else anytime soon.
I was wrong. A third high-end graded set (previously unknown to me) was made available on a card by card basis. Over a three day period the owner took pictures of cards and asked reasonable prices, seemingly ignoring any of the craziness of the past three years. I purchased 53 cards from this set, 32 of which moved the completion percentage higher. All were mint condition with 20 offering upgrades for other examples already in hand. I knocked several big names off the needs list, including Barry Bonds, Randy Johnson, and a few rarely seen toughies. The seller had already sold his Ivan Rodriguez and a few key commons separately so I did not get the opportunity to wrap up the set. At least two other collectors quickly began going through the set break, combining to purchase about the same number of cards as I took home. I worked out a deal with one to quickly flip the David Justice card, one that I had been too slow to see as I was distracted by another card (I can' help it, they're so shiny).
In total 64 refractors came through my doors to join my collection. Two dozen will be sent right back out this fall as I clear out duplicates and look to recoup a portion of the resulting cash outlay. Set completion moves from 74% to 95% with only 9 players needed. Only one (Eric Karros) is what I consider to be a somewhat easy card to obtain with the rest looking to be either very expensive (e.g. Greg Maddux) or very hard to find and expensive (e.g. Ivan Rodriguez). This is a good stopping point to recharge and save for a final push sometime beyond 2022.
Other Pickups
No '91 Elites were added to the collection but I did make progress on the '52 Topps set build with 10 cards added. Obliging eBay sellers provided a pair of filler-condition high numbers as well as a nice-looking card of the White Sox' Cuban pitcher Luis Aloma. Another five commons joined the set via sellers running half-off specials on COMC.
I love when a card I own can be traced back through the collection of a legendary hobby figure. I got that opportunity for the '52 set with the addition of cards of Bob Kuzava and Bobby Avila, both of which came from Gar Miller along with a wonderful handwritten note on the packing slip. Mr. Miller was actively buying and selling cards prior to the issuance of 1952 Topps and made a name for himself as one of the stalwarts of the hobby's growth in the 1970s and early 1980s. Sports Collectors Digest profiled him in 2017 and there is a wealth of history in an enlightening Net54 thread.
These cards bring the overall '52 set completion up to 40%. Completion of the low-numbers (#1-310), often seen as a much more attainable goal, almost hit 50% and needs just 6 new cards to reach the halfway mark.
Recent additions were not limited entirely to '93 Finest or '52 Topps. I have been exploring the feasibility of putting together a few new subset/insert sets over time. I added a pair of 1991 Score Dream Team cards, a massively overproduced subset focused on black & white photography that has been described as "sports cards for insane people." To satisfy my slightly less insane collecting inclinations I also grabbed a few Sandlot autographs from 2018 Topps Archives. Aside from 1962-style Topps cards with autographs from the cast of a fun movie, the set has an interesting distribution dynamic that resulted in a handful of cards being much more difficult to track down. I'm going to have some fun with this one when other projects are out of the way.
Website Design Changes
One of those projects relates to this website. Each player profile has previously been accompanied by a somewhat useless table of regurgitated statistics that are readily available online. I am in the process of ditching this, electing instead to present the effectiveness of a player on multiple metrics in relation to the set checklist currently being worked on. Each player profile will be updated to include a graphic similar to the one below: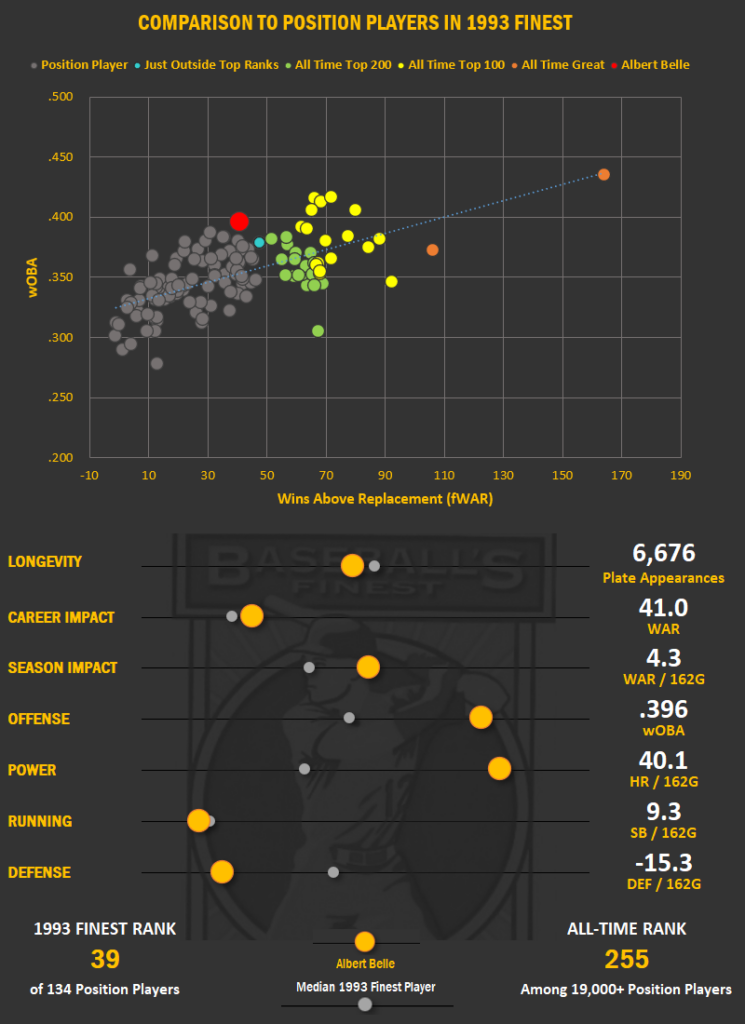 Baseball stats are fun, but I what I actually enjoy more than the history of the sport is the history of the game's associated pieces of cardboard. Going forward, each profile will also include a section highlighting a particular card of interest outside of the set being collected.
In addition to these improvements there will also be an expansion of the wallet card project. An in-depth history will be posted for each of the annually selected cards, detailing design peculiarities, photo history, hobby reception, counterfeit detection, and pretty much any related thought passing at random.
Third Quarter Reading
I finished building out a library of past issues of Beckett Baseball Card Monthly stretching back to 1984. Combined with some other research into periodicals I have put together fairly comprehensive notes on decades of changing hobby perceptions for several cards of interest. Before the end of the year I hope to translate this into a recurring in depth look at some really fun items.
This summer I also picked up an interesting book: Pete Williams' Card Sharks. Williams chronicles the rise of baseball cards and the eventual emergence of Upper Deck in the late 1980s, culminating with a look into the firm's business practices that defined much of the junk wax era. This will prove to be an immensely valuable resource as I plan to include a certain 1989 Upper Deck card as part of next year's crop of wallet cards. It turns out Williams sells copies of the book directly via eBay and signs each one.
It turns out this wasn't the only signed book making its way to my bookshelf. The hobby library expanded with Kevin Nelson's Operation Bullpen, a history of the FBI investigation and prosecution of a significant sports collectible forgery ring. I purchased a copy from the online offerings of a Goodwill halfway across the country only to find it in perfect condition, signed by the author and accompanied by a card bearing an inscription to an apparently unimpressed gift recipient. No worries, the book has found its way to a place where it will be enjoyed.
A particularly interesting subject of study is the development of the card collecting hobby's norms and preferences. Prior to the magazines and guides of the 1980s there was very little published that explored how collectors viewed specific cards both at the time of their release and in later years. Sports Illustrated published a one-off anthology of 1950s/60s collecting with the 1973 release of The Great American Baseball Card Flipping, Trading and Bubble Gum Book. I brought home a copy and was surprised to find some new (to me) information, an interview with Sy Berger, and some funny stories from collectors of the era.