In late 1994 I traveled to my local card shop to turn my allowance money into pieces of cardboard. The shop wasn't really dedicated to cards, but was actually a video rental store that had three glass display cases filled with cards off in a corner. On top of one the displays was a homemade wooden stand that allowed shoppers to flip through plexiglass pages of assorted baseball cards.
While my parents looked for a VHS of Jurassic Park, I came across a serial numbered card in that stand. I had never come across a serial numbered card in person before and I distinctly remember thinking I was viewing something difficult to find. It had gold foil borders and faux-green marble throughout the design, the kind of layout that would look right at home in late-90s McMansion or the lacquered menu on the wall of a Chinese takeout storefront. The card was a 1994 Leaf Gold Stars Jack McDowell and I added it to my collection that day by emptying out my savings of $20. It was the only numbered card I would own before I sold off my collection and went off to college years later.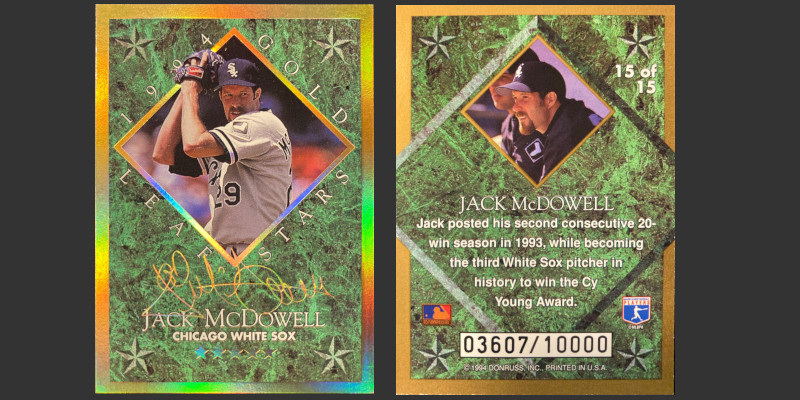 Leaf Gold Stars
Gold Stars was a 15-card insert set distributed alongside the 440 card 1994 Leaf set. Each insert was numbered to 10,000 with cards #1-8 appearing in Series 1 and #9-15 in Series 2. Leaf was the parent company of baseball card manufacturer Donruss and used this set to effectively clone the idea of Donruss' Elite inserts that had supercharged sales of wax packs since 1991. Odds of finding a Gold Star varied by what kind of pack collectors purchased, but they were inserted at a rate of no more often than 1:90 packs. Condition sensitive, light reflecting gold borders make the cards difficult to find in top condition.
The checklist appears about as one would expect for a sampling of the game's more popular players of the time. The hitter-centric focus of the '90s was in full effect with each league's reigning Cy Young Award winner the single pitcher thrown in as the final card in each series.
Checklist Ranked by my Interpretation of Career Performance
| PLAYER | TEAM | COMPOSITE SCORE (100 = BEST) |
| --- | --- | --- |
| Barry Bonds | San Francisco Giants | 93.4 |
| Greg Maddux | Atlanta Braves | 65.3 |
| Ken Griffey, Jr. | Seattle Mariners | 55.6 |
| Frank Thomas | Chicago White Sox | 55.4 |
| Paul Molitor | Toronto Blue Jays | 50.2 |
| Roberto Alomar | Toronto Blue Jays | 48.4 |
| Fred McGriff | Atlanta Braves | 47.3 |
| John Olerud | Toronto Blue Jays | 47.0 |
| David Justice | Atlanta Braves | 40.5 |
| Don Mattingly | New York Yankees | 39.4 |
| Juan Gonzalez | Texas Rangers | 38.9 |
| Lenny Dykstra | Philadelphia Phillies | 38.9 |
| Andres Galarraga | Colorado Rockies | 36.0 |
| Carlos Baerga | Cleveland Indians | 27.5 |
| Jack McDowell | Chicago White Sox | 25.2 |
Building the Set
Although I never acquired another Gold Star during my first collecting attempt, the thought of completing this small set had been present on multiple occasions. Outside of the Ken Griffey, Jr. card there appears to be zero interest among card buyers in picking these up. Depending on how much you pay for Griffey the set can easily be built in the $50 to $100 range. The ready availability of cards with a print run of 10,000 is apparent with this set, enabling collectors to piece it together in a short span of time. In fact, once I determined to build the set I had accumulated 14 of the 15 cards within a 30 minute span. The final card was David Justice for which I had to wait a week for an eBay auction to end. I was the only bidder and my $2 purchase arrived with a dinged corner and nothing more than a penny sleeve to protect it. Anyway, I have the set in my possession now and do not have the need to upgrade it.