The mid-1980s saw a profusion of high-end rookie cards appear, coupled with enthusiastic demand from a growing hobby. Of all the issues in the mid-'80s, it was card manufacturers' 1986 editions that seemed to capture the greatest group of fan favorites. Barry Bonds, Bobby Bonilla, Jose Canseco, Will Clark, Cecil Fielder, Andres Galarraga, Fred McGriff, Paul O'Neill, John Kruk, and Bo Jackson all made their cardboard debut that year.
It was at this time Beckett Baseball Card Monthly began giving collectors insight into the relative demand for their cards with tangible pricing data. Each of the above listed players were given individual listings for their cards (no commons here), but one additional rookie more than any other captured the hobby's attention. Wally Joyner and his late-season Donruss rookie card were placed on the cover of the October issue of Beckett. This was done despite no pricing data being available for either of his two rookie cards.
Joyner had started the season as a replacement for the recently retired Rod Carew. An early season barrage of homeruns had fans talking about a potential run at the single season record, with the United Press going as far in May as to put him on pace for 57 by the end of the year. His power hitting cooled as the season progressed, but he did manage to drive in 100 runs and take the Angels into the American League Champsionship Series. Despite this, collectors opened packs but could not find any Joyner cards from Donruss, Fleer, or Topps.
Late in the season Donruss debuted a new hobby-only set styled as "The Rookies." It featured 56 cards of that year's newest arrivals, giving a cardboard presence to those overlooked in the main Donruss checklist and highlighting the more popular newcomers pictured in the primary set. The hype surrounding Joyner likely played a role in the creation of the product with Donruss making Joyner the first card in the new set. Not wanting to be shut out, Topps utilized its annual Topps Traded set to get a Joyner card into hobbyists' hands.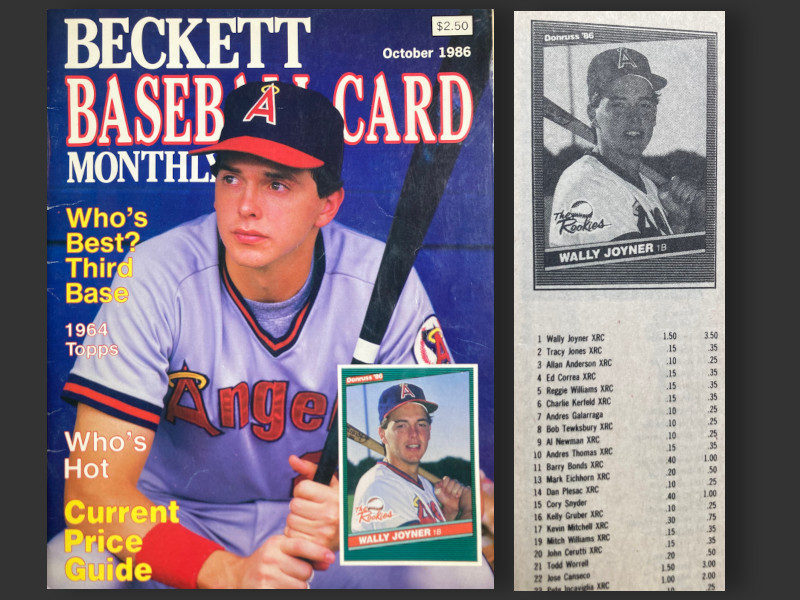 Both sets were priced for the first time in the November/December Beckett. Based on reported pricing, Joyner's cards were more popular than those of Rookie of the Year Jose Canseco and easily outpaced future stars like Barry Bonds. The demand continued throughout the 1987 season and Joyner's cards once again remained the most in demand of each set.
So why aren't collectors clamoring for his cards today? It turns out 1986-87 was peak "Wally World," the name given to the mania that briefly surrounded his play. Joyner's output dropped from that of a perennial All-Star to a level more consistent with terms like "steady contributor" and "local fan favorite." The drop-off, if you can call it that for a guy who batted close to .300 and averaged ~3 WAR annually, was amplified in the eyes of collectors as the rest of his 1986 rookie class went on to record homerun records (Bonds), the first 40/40 season (Canseco), and otherwise dominate the pop culture landscape (Jackson).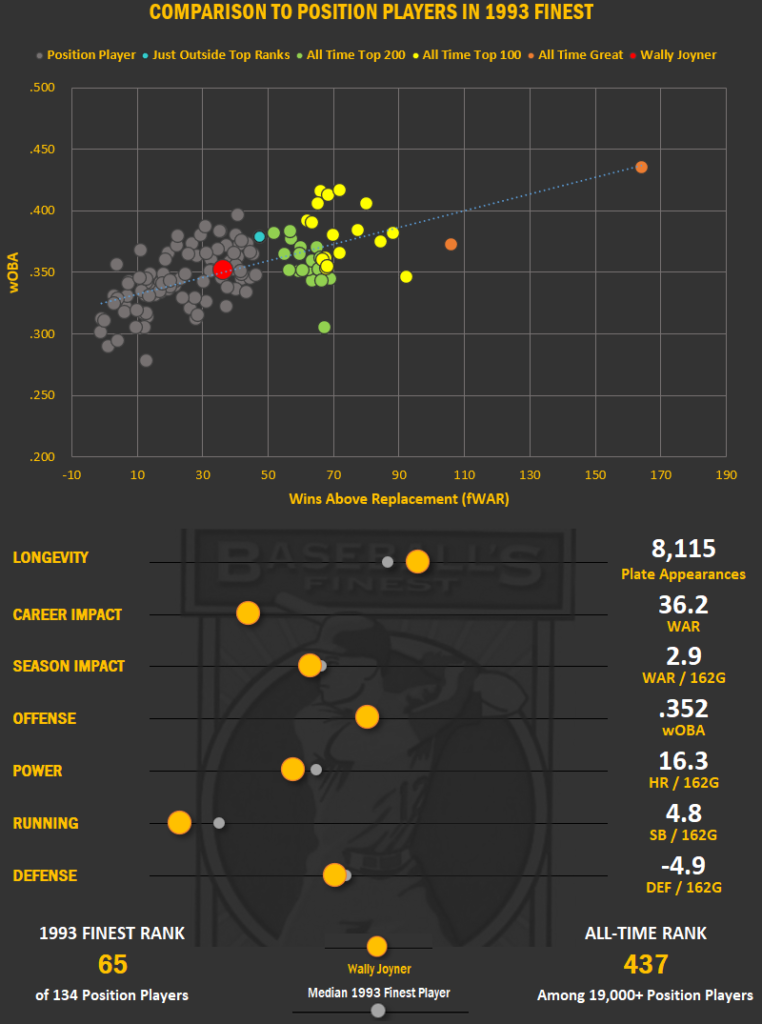 Building a Better Baseball Card
Without Wally Joyner, there may never have been a Topps Finest set, no refractors, and nothing like the super high-end stuff we see today. Premium cards like Finest were first put into the public consciousness with the launch of Upper Deck in 1989.
In 1987, the same year Joyner's popularity peaked, his teammate DeWayne Buice chanced upon a hobby shop called "The Upper Deck" while looking for a good spot for Chinese takeout. Buice became friends with the shop owners who wanted to launch their own line of baseball cards. Their problem was a lack of access to the requisite licenses to depict players.
As a member of the MLBPA, Buice had the contacts that would allow Upper Deck's proposals to be heard. He quickly recruited the more popular Joyner in the venture and the pair were soon at a photo shoot for the production of prototypes (shown below) and promotional materials. They were compensated for their input, with Joyner receiving $10,000 cash and Buice getting 12% ownership of Upper Deck. Buice had put The Upper Deck partners in front of Bud Selig and professional baseball's legal apparatus while Joyner's involvement gave momentum to the fledgling manufacturer's marketing efforts.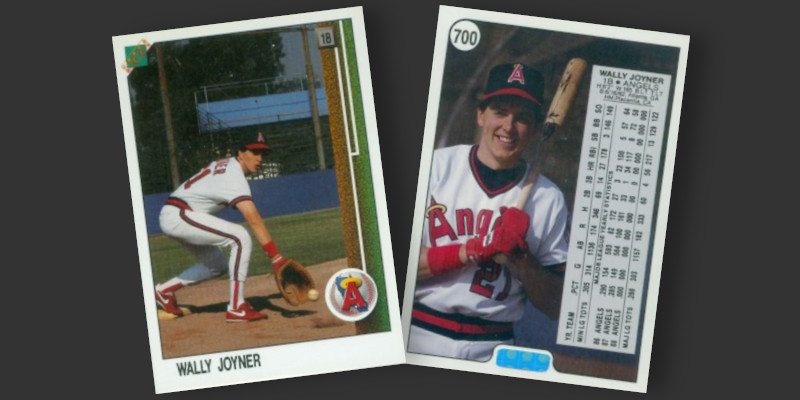 The new cards were a hit, ratcheting up competition among card manufacturers. Foil packs debuted with Upper Deck and would first be used by Topps with the introduction of Finest in 1993. Upper Deck's premium pricing ($1/pack) showed not only that the hobby could support production of higher quality cards, but would readily seek out such a product. Within four years Topps Finest was (briefly) on store shelves and the hobby was irrevocably changed.