One way of measuring baseball performance is through the lens of wins above replacement (WAR). WAR attempts to quantify how many runs can be created by a player on offense and saved on defense. The result is presented in a format that estimates the number of extra games a team can expect to win in a season with this particular player in the lineup compared to a random minor league replacement. Positive numbers represent increased odds of winning while negative numbers indicate a player should be replaced.
Ray Coleman played his career as a backup outfielder that managed to play in a majority of his team's games. From a WAR perspective, he was an expendable player who generated a slightly negative pull on the American League standings. Sparks of inspiration, such as a dozen triples in 1951, were offset by prolonged slumps and spotty baserunning. The latter was particularly troublesome as he was caught stealing in more than 50% of his attempts and was once picked off first with a hidden ball trick. In short, he didn't stink but wasn't that great.
Despite this performance, it seems most general managers utilized his services appropriately. He was treated as a fourth outfielder, the embodiment of the hypothetical replacement player embedded in WAR assumptions. He was given a chance and duly replaced after about a year of service with multiple teams. Service with the Philadelphia Athletics and Chicago White Sox was punctuated by multiple short stints with the St. Louis Browns, a team that effectively served as a minor league team for the rest of the American League.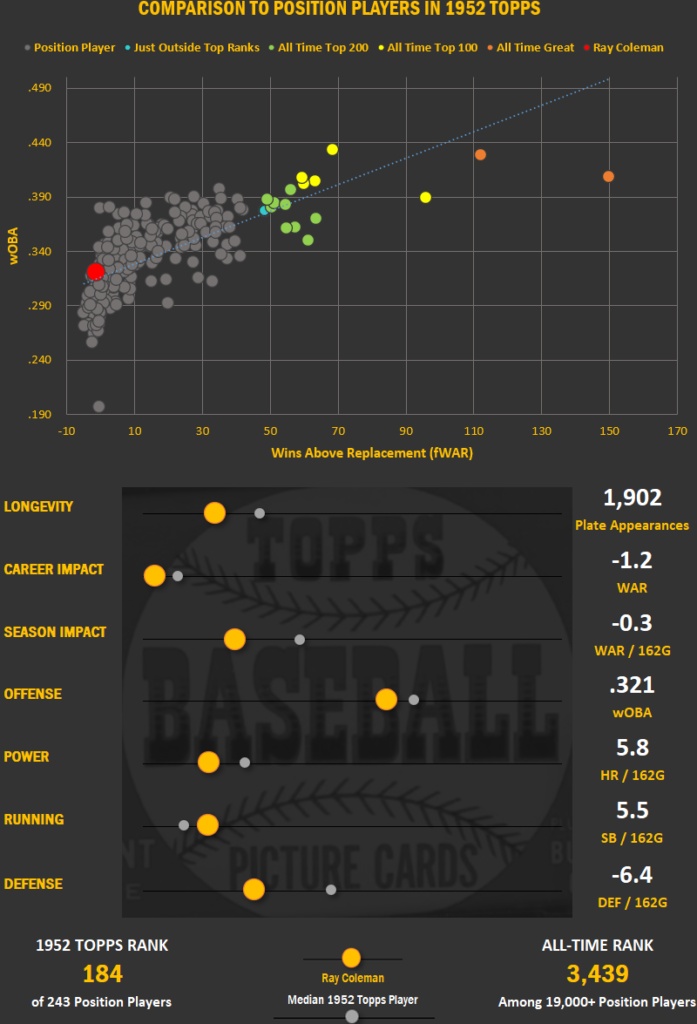 A Man of Many Hats
Coleman's final MLB baseball card appearance came in the fourth series of the 1952 Topps set. He is shown as a member of the Chicago White Sox, though he was actually traded to Brooklyn late in the season and never suited up Dodger Blue.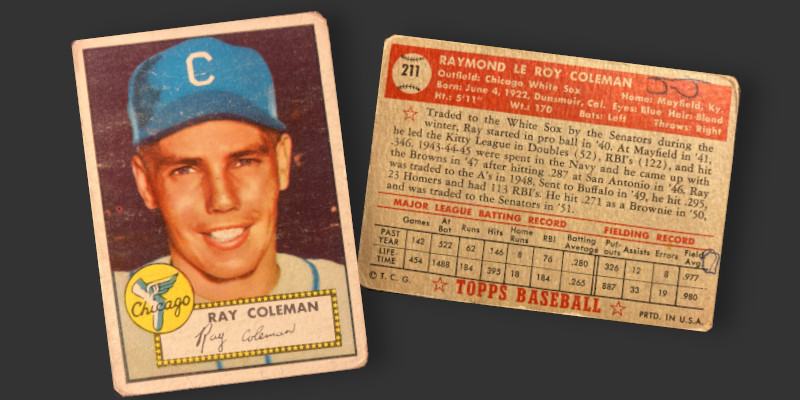 His card shows a fantastic portrait and a prominant Chicago cap. The logo is one of four different designs utilized on Topps cards that year featuring players on the White Sox roster. The White Sox changed their logo several times in the 1940s, resulting in a non-matching uniforms across baseball card sets of the time. Chicago logos became increasingly intricate over this period, moving from a block letter to the interconnected components spelling S-O-X.

Coleman was likely given the old design as Topps did not have a photograph of him wearing a Chicago uniform. This prompted the team tasked with colorizing Topps' out-of-date image to paint a White Sox logo on his cap. The big block letter "C" represents an approximation of a logo used by the team through WW2, though it is missing some of the little serif flourishes seen in actual photographs of the era.