Waiting isn't fun, meaning submitting cards for grading at PSA hasn't been fun for the past couple years. I waited well over 400 days for each of my bulk orders to be completed and am in no hurry to repeat the process. There is, however, a way to skip ahead and find out how the graders have judged the cards without waiting for the shipping department to complete its duties.
Using what is often described as the "What-If Trick" or "Registry Trick," collectors can hijack a function of PSA's set registry to access an early peak at their grades. The first read-through into grading results becomes available once cards have exited the Grading stage and entered Assembly. All you need are the serial numbers of the graded cards and access to the set registry via the PSA app.
Step 1: Gathering Information
When cards are first received by PSA they are entered into the firm's order entry system. Before they reach the Grading stage they are assigned the unique 8-digit serial numbers that will appear on the finished grading slab. These appear in the "Cert #" column on the order detail screen.

You'll also want to make note of any registry set checklists on the PSA website that include the card you wish to view. This can be from a single set; a player-specific collection; or one of the registry's many specialty groupings such as HOF rookies.
Step 2: Wait for Assembly and Creating Sets
The information gathered in Step 1 serves no purpose until the cards have exited the Grading stage and moved on to Assembly or beyond. As an example, I am going to track a 1991 Donruss Elite Rickey Henderson (Serial #59391520) that I submitted in early 2021.
If you already have a registry set in progress that includes the card in question you can skip ahead to Step 3. If not, start a brand new registry set from of the available checklists containing your card.

Step 3: Using the What If Function
Now that a set containing the targeted card has been established, open the PSA Set Registry app and scroll halfway down the dashboard page to the "What If" box shown below.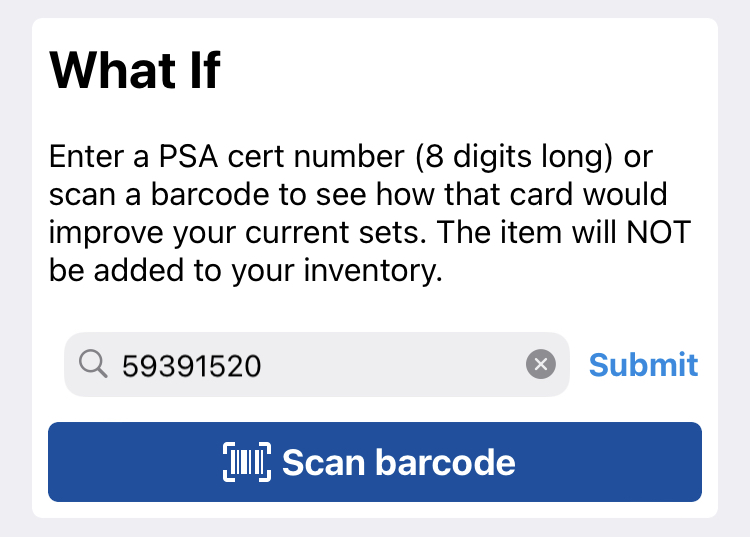 Enter the eight-digit certificate number and press submit. This will bring you to a page that shows you card's newly assigned grade. In this case a grade of 8 out of 10 has been assigned.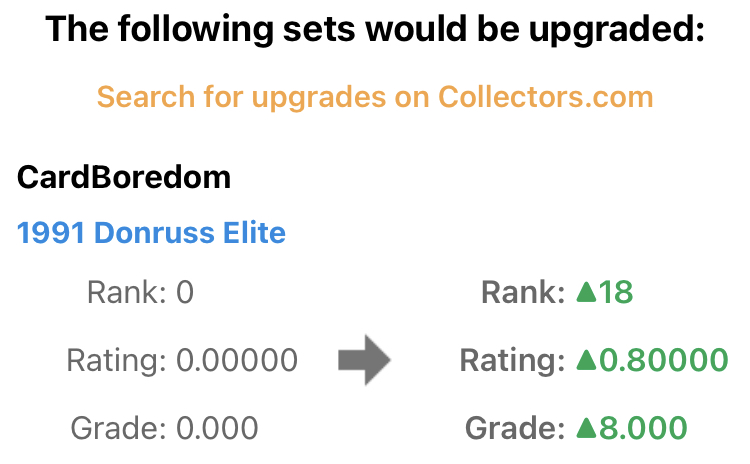 Step 4: Crippling Anxiety
I mentioned earlier that a sneak peak of a card's grade becomes available once it has entered the Assembly stage. While a grade has indeed been assigned, it is not yet final. Grades can and do change during the quality assurance process. PSA's own internal systems seem to also get a bit wonky when process Gem Mint 10 grades. I have heard from multiple collectors who have seen Gemmed cards revert to lower grades as late as the QA2 stage. I personally had 5 of 6 what-if Gems migrate to Mint 9 on the day they shipped.