OK, hear me out. Topps did the unthinkable in 1992 when the card manufacturer stopped including gum inside packs of baseball cards. Collectors would no longer know the joy of chewing dusty gum and enjoying a flavor that disappeared in the time it took to quickly shuffle through the 15 cards included in each pack. Topps had a good thing going until that time, as the sudden evaporation of any taste would require card purchasers to quickly open another pack to keep the flavor going.
What happened in 1991 to change this? Most would point to the fact that nobody was buying cards for gum at that point. Gum was often seen as a drawback that often damaged cards by leaving a residual stain on cardboard surfaces.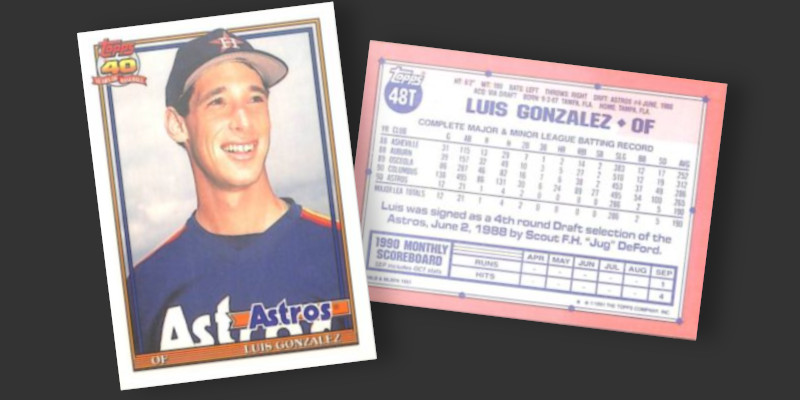 My theory is different. Topps gleefully shipped truckloads of gum and cards to store shelves through much of 1991. They also printed the Topps Traded edition, a year-end set showcasing rookies and players who changed teams. As in years past, Traded cards were issued only as a complete set and did not contain gum. The set did, however, contain a rookie card of gum aficionado Luis Gonzalez.
By 2002 gum was a distant memory for baseball card collectors. Luis Gonzalez was not, having knocked in the winning run of the recently concluded 2001 World Series. Following a Spring Training in March he spit out his gum. A Minnesota sports memorabilia dealer asked a security guard for access to the gum and then promptly listed it for sale in an online auction. Bidding passed the four-figure mark as local radio played up the decidedly oddball offering.
That's when a weird thing got weirder. The comments section of the Internet roared to life to discuss the authenticity of the gum. Was it really Luis Gonzalez-grade litter? If so, was it game-used versus just having been briefly player-owned? Reputations were on the line with nonother than the Topps Corporation topping the current bidder list.
Gonzalez found out about the brewing controversy and stepped in to save the day. With cameras rolling, he chewed a new stick of Bazooka gum (a Topps product!), sealed it in a canister and forwarded it to an Arizona radio station. Bidders could now be certain they were getting authentic Gonzo gum. A sports medicine office thought enough of it to place a winning bid of $10,000.
Topps spent decades trying to get us to pay up to $0.50 for a pack of cards and gum. Luis Gonzalez apparently inspired multiple people to offer thousands for just two pieces.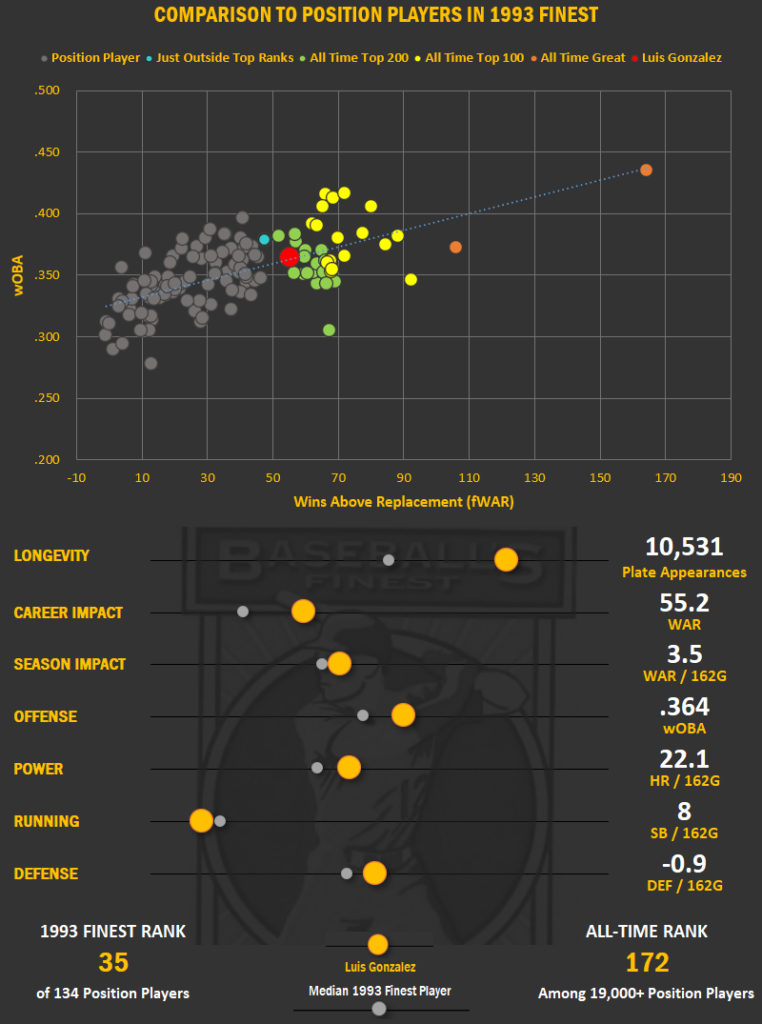 Gonzalez was a solid hitter who had an insane season in that 2001 championship season. He batted .325 with 57 HRs and 142 RBIs, totals that would have given him a triple crown in more than 50 of the seasons since the advent of the live ball era. Gonzalez racked up 419 total bases, the second highest total of the last 70+ years of baseball.
The '93 Gonzalez Refractor
With hindsight, it is clear the 1993 Finest checklist captured a great player with the inclusion of Gonzalez as card #195. The problem with hindsight is that it doesn't exist until after the fact, and in early 1993 his presence in the set seemed a bit odd. Simply put, he wasn't good yet. He was averaging about 10 HRs per year with a ~.250 batting average that was headed in the wrong direction. With 9 other Houston Astros in the set, he wasn't a throw-in to fill out team representation.
Gonzalez has some dedicated fans, even excluding those who are willing pay as much as a used car for discarded gum. I have found traces of collecting discussions online that imply a Gonzalez-focused collector has a particular affinity for his 1993 refractor. A post from a few years ago shows almost 10% of the estimated print run has been accumulated by this collector, a topic that I hope to eventually follow up on.
My next door neighbor honed his English listening to Diamondbacks games on the radio and Gonzalez became a big part of that experience, making this card even more fun to have in the collection. I'm glad he made the checklist.