Detroit Tigers pitcher Art Houtteman was having a rough year when he was pictured on his 1952 Topps card. His infant daughter was killed and his wife and mother were seriously injured when they rolled over their new Cadillac returning from a trip to see Art in Spring Training. Later that month he lost a no-hitter with two outs in the bottom of the ninth. He even lost 20 games while the Tigers dropped 104 games that year. 1952 appears to be the season in which the nickname "Hard Luck" Houtteman stuck.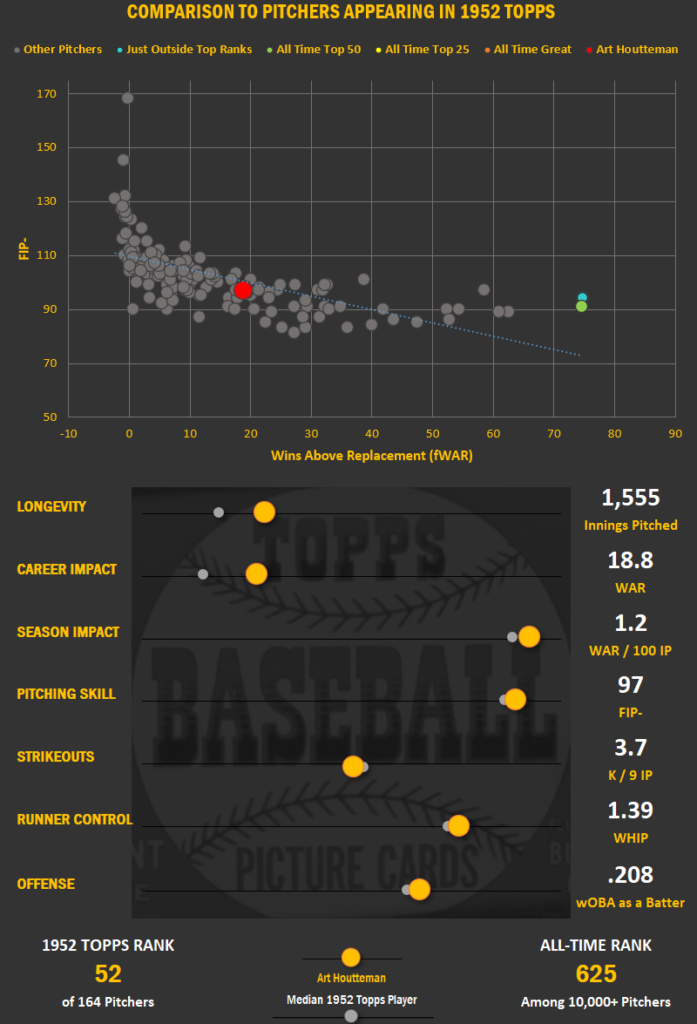 I always thought this was one of the better composed cards in the set. I'm a big fan of the solid color backgrounds. A smiling Houtteman would have been incongruous on his 1952 Topps card. The biographical text mentions Art having been in a serious accident himself. His car hit a fruit truck during Spring Training.
Buying this card off of eBay is a reminder of why I discount what I would normally be willing to pay. The seller described it as being in excellent condition. The corners are closer to GD-VG territory and two light creases are present. I'll chalk it up to bad luck.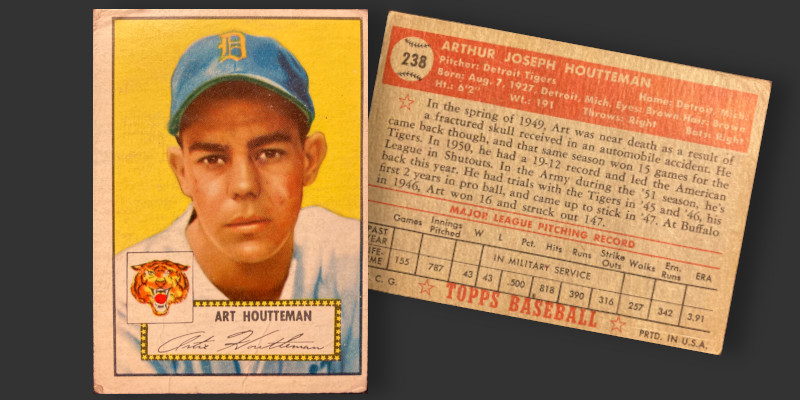 Another Card of Interest
Aside from 1952 Topps, what Art Houtteman card do I find most interesting? His 1954 Dan-Dee Potato Chip issue is easily the answer. These were issued direcly in packages of chips and as a result are almost always found with some degree of staining. Dan Dee was a regional snack maker in Ohio so many of the players pictured in the set are members of the Cleveland Indians. The back of the card mentions Dan Dee chips are "hylo-ized." I have no idea what this means but see that the trademark expired in 1992. Maybe Fanatics will renew the trademark and turn it into some sort of shiny parallel in new card issues.
I have a memory of visiting a card show as a 10-year-old and buying a rookie card of a distant relative. The dealer had been making his way through a party-size bag of chips. When I asked to purchase the card he set the bag down, wiped his hand on his pants, and then pulled the card in question from a binder page and handed it to me. I was happy at the time, but when I got home I realized his snacks had added an oil-stained imprint of his thumb across the back of the card. More bad luck.