Minnesota Twins catcher Brian Harper was a contact hitter. In fact, one could call him a "contact batter" and be even more accurate. He rarely struck out (5.6%) and walked even less (3.9%). When he did reach base without putting the ball in play, it was more likely to be from being hit by a pitch or intentionally walked rather than drawing four favorable calls from an umpire. To put his parsimony in missing pitches in perspective, Adam Dunn and Chris Davis both have five seasons in which they exceeded Harper's 16 year career strikeout total of 188.
This approach worked well, despite Harper not being a particularly fast runner. He batted .295 over the duration of his career, the same as his batting average of balls in play (BABIP).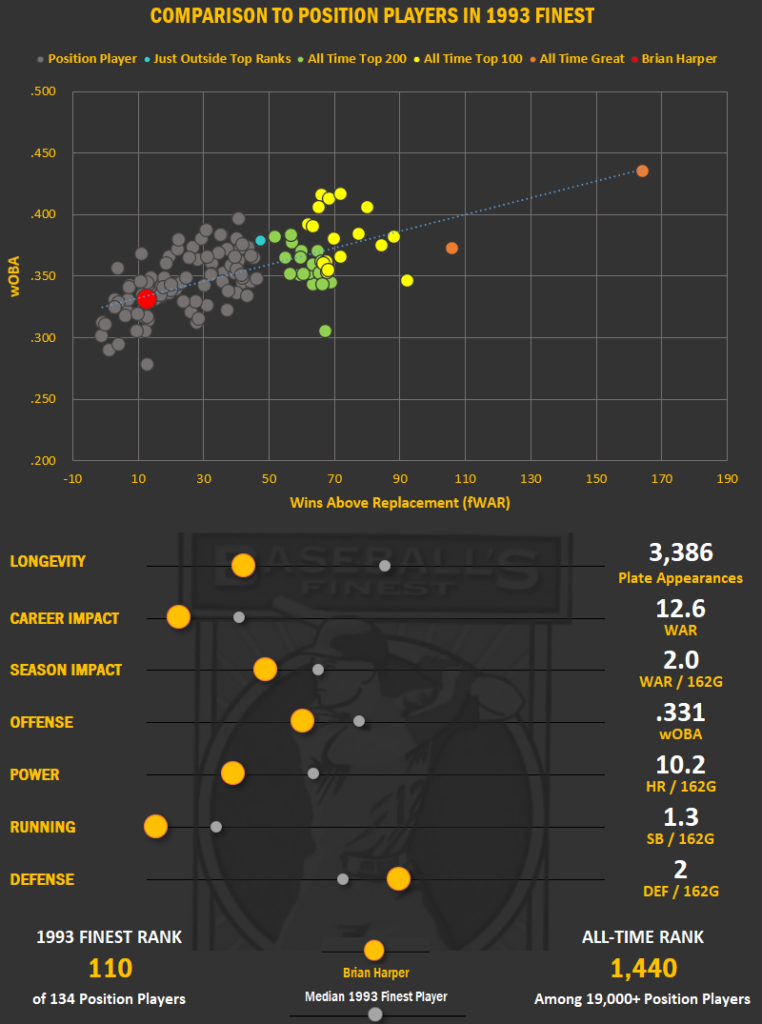 Blocked at the Plate
Before Harper could put the ball in play, he first had to get in front of major league pitching. As a catching prospect he had not been at the forefront of teams' depth rankings. Drafted by the California Angels, the team only used Harper in 5 games over a 3 year span and relied instead on the 20+ annual homerun production of Brian "The Incredible Hulk" Downing.
Harper had better luck with 3 seasons in Pittsburgh, but only appeared in 135 games in that span with Tony Pena doing well behind the plate. Three additional seasons came and went, each with different teams and producing a combined 73 appearances. His way was blocked by quality backstops in each ballpark, including Lance Parrish with Detroit and Mickey Tettleton in Oakland. In nearly a decade of play Harper had only gotten into just 213 games.
Harper got his chance in 1988 when the Minnesota Twins gave up on Tim Laudner. Laudner had been a promising catcher with development potential and had been selected in the third round of the 1979 draft. By mid-1988 Minnesota had realized the career .225 hitter wasn't going to break out and began platooning him with Harper. The battle for the starting role was soon over with Harper playing in the majority of his team's games through the 1994-95 strike.
He didn't really get a starting role until approaching age 30 and 4 out of 5 of his plate appearances came across a half dozen seasons with the Twins. His statistical production would have been interesting to see if he had been able to play regularly in his 20s.
1993 Finest
Among players appearing the 199-card '93 Finest checklist, Harper was the third least likely to strike out behind Tony Gwynn and Ozzie Smith. He was the second least likely to walk, trailing only Ozzie Guillen. Harper joins Guillen with the lowest proportion (11%) of 3 true outcomes in the set.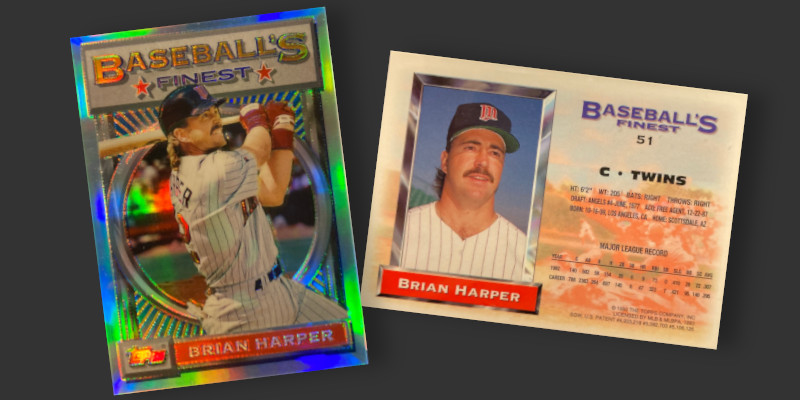 He had been a key part of the Twins 1991 World Series championship and was a natural to be one of the eight players representing the team in the '93 Finest checklist. This particular card was the final one I needed to complete the team set. It took a bit to track one down, as Harper's cards are not the most readily advertised due to his limited playing time. This lack of popularity likely contributed to fewer cards being graded by third parties over the years, resulting in the few that appear in higher grade often being quickly priced out of my target range by set collectors. Transaction frequency data going back 20 years shows the card consistently in the bottom 20% of publicly visible sales, indicating not many changing hands. When they do appear, raw copies seem to be snapped up by those looking for elusive mint and above grades or priced as if they were already bearing a gem mint label. I came across a seller restocking his offerings with one graded NM-MT and quickly added it to the collection.