Chris Bosio was a pitcher who fought to get to the big leagues. He did this figuratively, playing almost four years in the minors, and literally, when he got into a fistfight with a Milwaukee parking lot attendant who insisted he had to pay $4 when attending a Brewers PR event in 1987. It wasn't his best moment, but he moved on to log nearly 1,200 innings and some above average seasons for the Brew Crew. Three solid seasons of full time pitching showed he could anchor a rotation.
By 1993 change was in the air. The development of additional pitching talent (i.e. Cal Eldred and Jaime Navarro) prompted the low budget Brewers' front office to stand back from bidding on a renewal of Bosio's contract when he became eligible for free agency at the end of the '92 season. The Seattle Mariners were coming into their own as a legitimate contender and signed Bosio as a complementary piece to their Randy Johnson-led rotation. Bosio headed off to the Mariners' Spring Training camp, ready to take his game to the next level.
That's when 1993 suddenly went nuts. As soon as Bosio and his family departed for camp, a random guy broke into his house in California and moved in. He stole personal belongings (a fax machine keeps being mentioned in news reports), crashed Bosio's moped, and left a bloody mess after injuring himself. The drifter was discovered by a contractor and subsequently arrested. He made bail and broke back into Bosio's place before being apprehended again.
It wasn't just the inconvenience of an unwanted whacko that tried to shake Bosio. There was a murder/suicide in the apartment below his during camp. Soon after that shock subsided there was news that Bosio's grandfather had died.
It was against that backdrop that Bosio began a shaky start to the '93 season. This looked set to continue when he started his fourth game of the year by walking the first two batters. That is when everything briefly turned around, as he then found his groove and retired the next 27 consecutive batters. Bosio had a no-hitter, and essentially pitched a perfect game given the consecutive nature of each out.
Of course, the weirdness that was 1993 wasn't done with Bosio. In his very next start he collided with a baserunner while covering first and missed a month of play from the resulting broken collar bone. Two games after returning to the mound he threw inside at several Baltimore Orioles, prompting a retaliatory HBP and one of the longest fights in MLB history. Bosio fractured the collar bone again in the ensuing melee and on top of that was suspended 5 games for his role. Not a stranger to fighting and intrigue, Seattle manager Lou Pinella used Bosio as a pinch runner to start the 5-game clock a week ahead of his first scheduled start coming back from the injury, resulting in the pitcher missing very little time due to his punishment.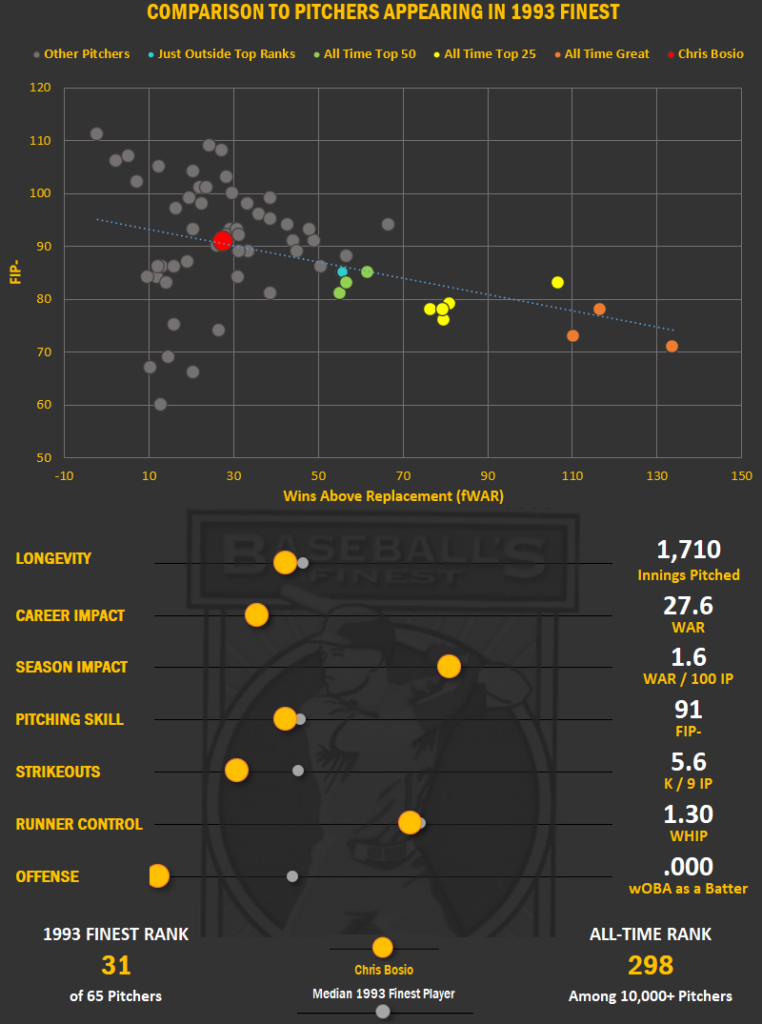 Bosio on Cardboard
As a guy who pretty much saw his entire career take place inside the Junk Wax Era, there are a ton of cards featuring the guy known as "Boz." My favorite of these was issued in 1994 and highlights his early 1993 no-hitter. Card #316 in the 1994 Score set shows Bosio being congratulated by his teammates. The card is available in the regular, condition sensitive base set as well as a foil board "Gold Rush" parallel. Eagle-eyed collectors may notice that he is flanked by Ken Griffey, Jr. and Randy Johnson in the photo. Zoom in on Johnson's left hand and it appears he is in the act of socking Bosio in the shoulder. Bosio, meanwhile, has the look of relief of a guy who no longer cares where his fax machine has gone.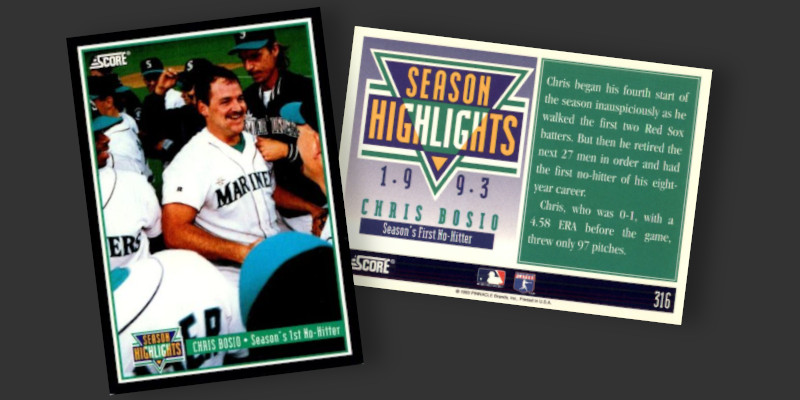 Bosio's 1993 Finest Refractor shows him pitching in a Mariners uniform. Given the frequency with which he was called away from Spring Training to deal with off-field issues, the photographer tasked with obtaining a current photo of the new Seattle pitcher for a 1993 set must of had his hands full.