"Chick" Chakales was known to throw around the above introduction from time to time. His pronounced southern accent made the phrasing all the more humorous and reminds me a bit of Hal Holbrook's portrayal of Mark Twain. Chakales has a Twain-esque story in his background, with both he and the writer often spending nights at a local funeral home. Chakales lived in one while staying in another town as a member of a youth baseball team. One night the young Chakales walked downstairs. Upon reaching the first floor he saw a body sitting bolt upright, terrifying him and sending running out into a torrential downpour. (See the full account at SABR's biography project)
He was a good teenage pitcher, but his attempts to break into the majors with the Cleveland Indians were nearly doomed by the best pitching rotation outside of the '90s Atlanta Braves. He found a role as a relief pitcher and occasional spot starter but wasn't terribly effective.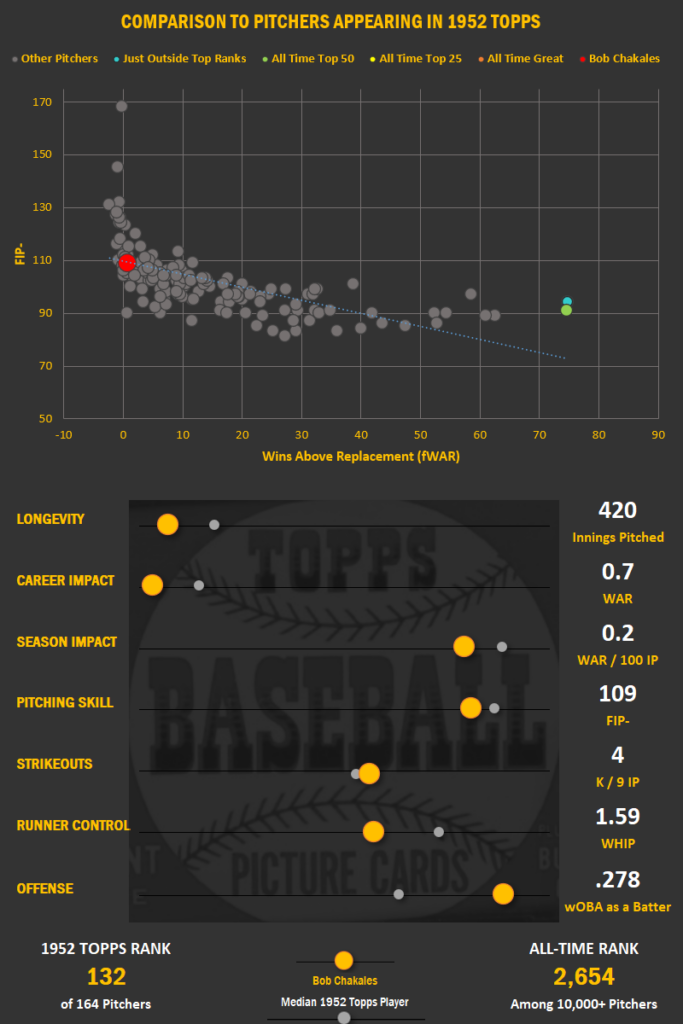 Life after baseball included lengthy service at Markel, Virginia's insurance equivalent to Warren Buffett's Berkshire Hathaway. I'm a long-term shareholder and fascinated by the Markel story, so it is great to find a baseball connection. Chakales moved on to developing golf courses, eventually designing the PGA's famed Sawgrass course at Ponte Vedra.
Chakales Cards
While he didn't play in the Majors very long, Chakales still managed to garner a good cross section of 1950s baseball card history. That's one of the perks when you pitch on the vaunted staff of the Cleveland Indians, a perennial contender in the late 1940s/early 1950s. One of the most fascinating Chakales cards of this era was his appearance as card #9 in the Num Num Indians set. Issued by a manufacturer of packaged snack foods, they were part of a long-running promotion in connection with the local Cleveland Indians. Biographical information is more forthcoming on these cards than many others of the time and there is even an offer to trade autographed baseballs for completed sets.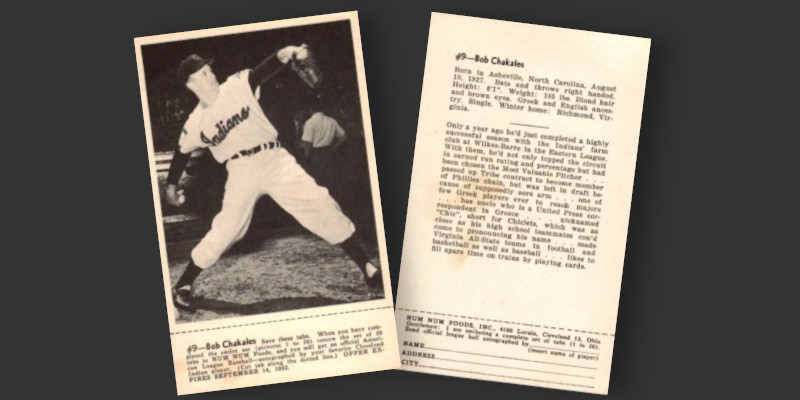 That's more exciting than what Topps offered in 1952, though it is not without its charms. The card is part of the easy to find second series. The cameraman staged this photo of Chakales tipping his cap from a low angle. I wonder who the Cleveland pitcher was looking at.