Mike Morgan didn't spend a lot of time at home, earning the nickname "The Nomad" in an endless series of trades to different ballclubs. He played for a dozen teams in an amazing 25 years of baseball, a record number of home cities at the time of his retirement. Fans didn't really get to see a chance to see him play even in the rare instances of his staying with a team for a multiyear stretch: He was part of the away team in a majority of his MLB appearances.
Morgan jumped from high school to his first MLB start in the space of a week in 1978. He graduated and was picked by the Oakland A's in the first round of the draft within days. Morgan, whose name is an anagram of "Grim Oak Men" took the mound against the Orioles and allowed 2 earned runs in 9 innings of a 3-0 loss. Things were indeed grim for the team with the loss being the first of a 10 game losing streak. He only pitched in another three innings that year, getting shelled and quickly being sent to the minors. A return trip to the parent organization in 1979 did not go well and he was once again in AAA.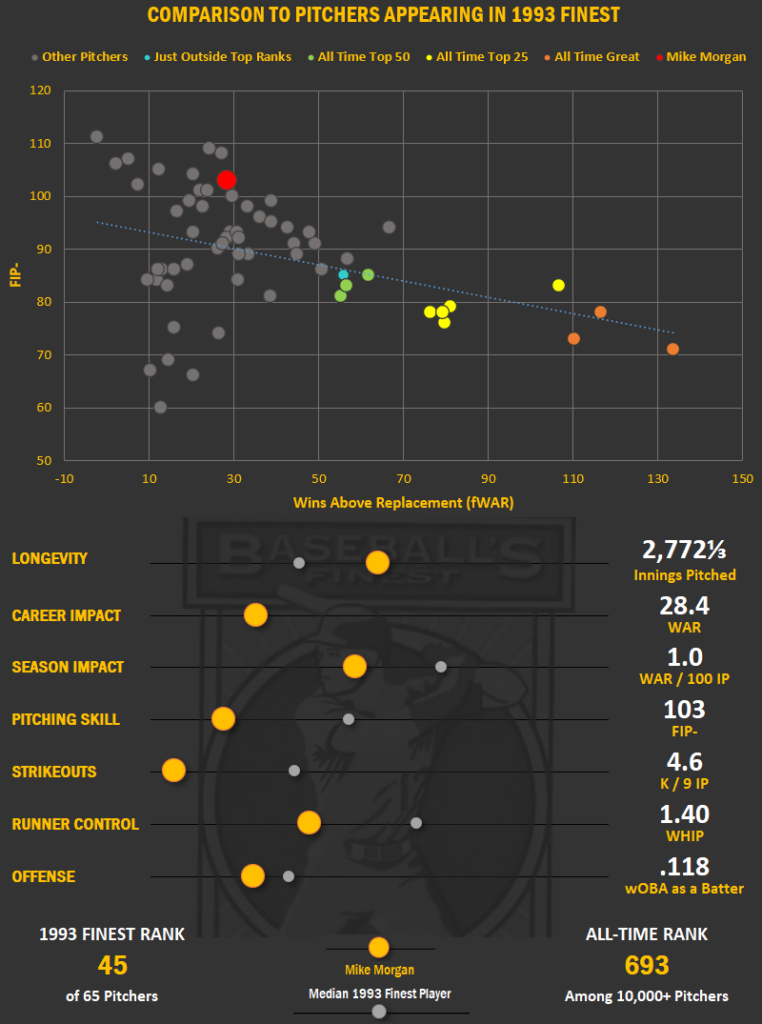 A #1 draft pick usually doesn't say down for long and certainly warrants a closer look from rival teams. The New York Yankees made a deal for Morgan and plugged him into their farm system. He reemerged two years later with 150 innings pitched for New York and was in the majors for good.
He bounced around multiple teams throughout the decade, posting losing records in every season until his final season with the Dodgers in 1991. Suddenly he was good, finally getting control of his pitches, generating his first winning record, and making the All Star team. The Chicago Cubs picked him up as a potential replacement for the soon to leave Greg Maddux and were encouraged by further improvement in 1992. He started the 1993 season as the staff ace and lost to Greg Maddux in a 1-0 pitcher's duel on Opening Day. Injuries shortened his season and within a few years he was back on the road, eventually retiring in 2002.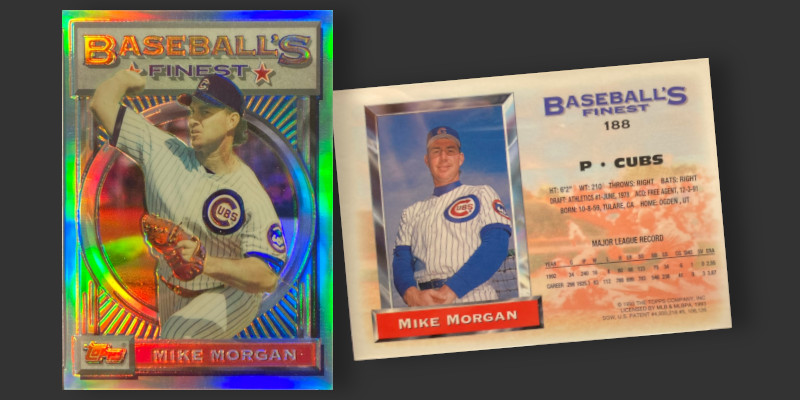 The Mike Morgan Road Trip
The Nomad had seemingly settled down in Chicago when Topps made this card in 1993. That same year he and Cubs teammates Steve Lake and Mark Grace purchased Harley Davidsons and made plans for regular rides together. They didn't get many opportunities as Lake retired at year end and Morgan was traded in 1995.
I figure Mike wanted more out of that bike, so I decided to put together a road trip itinerary based on the many travels of his baseball career. The route starts in Oakland and ends in Ogden, Utah where he now operates as a hunting guide.
| CITY | POINTS OF INTEREST | FOOD | TRAVEL TIME | DISTANCE FROM PREVIOUS STOP |
| --- | --- | --- | --- | --- |
| Oakland, CA | Redwood Trees | Chinese Dumplings | | *START* |
| Los Angeles, CA | La Brea Tar Pits and Griffith Observatory | Pink's Hot Dogs | 5H 27M | 372 miles |
| Phoenix, AZ | Hot Air Balloons Over Desert | Tacos | 5H 49M | 373 miles |
| Dallas, TX | Giant Eyeball Sculpture and See a Rodeo | BBQ Festival | 15H 26M | 1,064 miles |
| St. Louis, MO | Paddle Steamers | Concrete shakes | 9H 30M | 631 miles |
| Cincinnati, OH | Underground Tours | Frisch's Big Boy | 5H 3M | 358 miles |
| Baltimore, MD | Chesapeake Bay Cruise | Blue Crabs | 7H 40M | 507 miles |
| New York, NY | Walking Brooklyn Bridge | Utility Pizza | 3H 16M | 188 miles |
| Toronto, ON | Niagara Falls and Castle Tours | Poutine | 7H 43M | 491 miles |
| Chicago, IL | Comedy Clubs | Chicago Style Hot Dogs | 7H 40M | 513 miles |
| Minneapolis, MN | Fishing | Juicy Lucy Burgers | 6H 1M | 409 miles |
| Seattle, WA | Boeing Tour | Geoduck Salmon | 24H | 1,656 miles |
| Ogden, UT | Trail Riding | Whatever Mike Morgan shoots | 11H 14M | 795 miles |