If you were a Hollywood screenwriter in the 1950s, how would you draw up the role of a leading baseball player? First, he would have to have a great name. Second, he would need to be seemingly predestined to excel in his role. There would need to be dramatic moments against a recurring foe and mammoth heroics on the stage at the moments when it is needed most. Additionally, he would need good hair and a strong jawline, as well as to be surrounded by a great supporting cast. A theme song wouldn't hurt, either.
Baseball had just such a player. Like actor John Wayne, Edwin Snider went by the nickname "The Duke" since grade school. Snider grew up as a sports prodigy, playing all the major sports in high school and quarterbacking the football team with an arm that could throw 70 yards down the field. Baseball proved to be his future and he debuted at the top level of the sport in perhaps one of the most dramatic games of the decade; the April 15, 1947 game in which Jackie Robinson also took the field for the first time. Snider combined with Robinson and others to fill out the starting lineup of a team that frequently had more Hall of Famers than not on the field.
Snider defined he term power hitter in the 1950s heyday of the Brooklyn Dodgers, leading all of baseball in homeruns and RBIs for the decade. He had a five year stretch of hitting more than 40 homeruns per season and managed to leg out dramatic triples in all but his final year. His strong arm showed that 70-yard power from center field, though like an actor, he seemed to plant himself on a stage cue and would not move from that spot in order to get to incoming baseballs any faster. Snider was extremely self-conscious about his play and would spiral into periods of self-doubt whenever he didn't live up to the role of "Duke Snider" that fans clamored to see. While this did indeed have a negative effect on his annual performance to the tune of ~0.4 WAR, his hitting more than offset this with a positive contribution closer to 5 WAR throughout his career. With Snider anchoring this role in New York's center of the baseball universe, his name became synonymous with fellow centerfield legends Mickey Mantle and Willie Mays. The trio later inspired the song "Talkin' Baseball" under the guise of "Willie, Mickey, and the Duke." What more do you want from the guy playing the role of the decade's most productive hitter?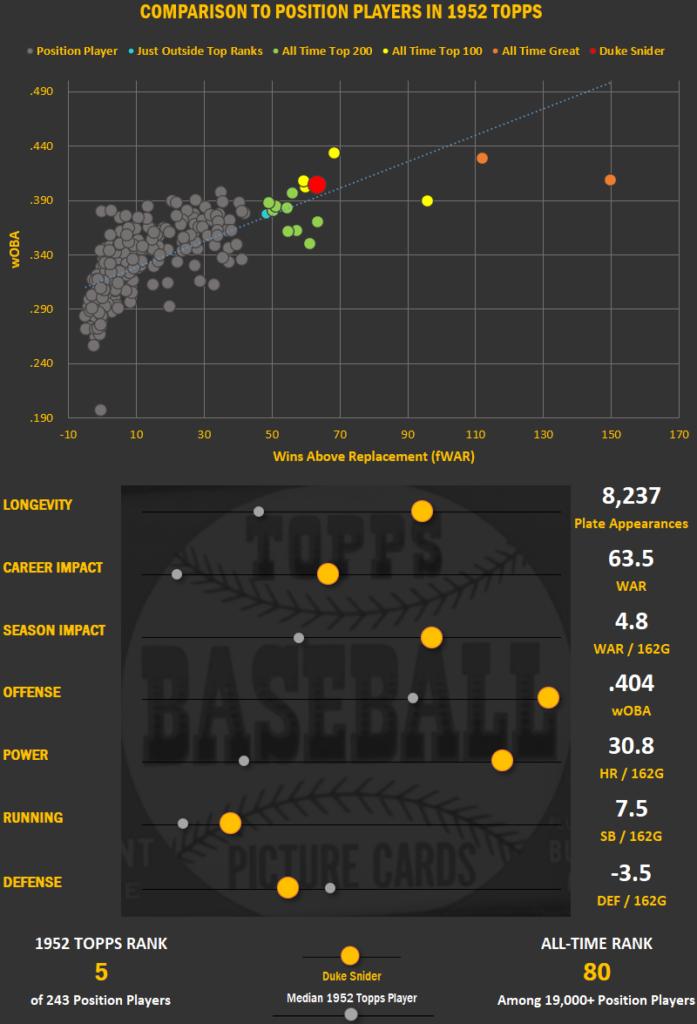 A Card Show Pick-Up
Years ago in the first iteration of my baseball card collection I owned three 1952 Topps cards. One was the Duke Snider card, though that version was the black back variety and had at one point in its past been used to protect a surface from a can of oil. This time around I grabbed a more attractive copy with a red back and no oil stains.
The Snider card was the final card of a trio of 1952s I picked up at a local card show in early 2022. The seller had two different ones to chose from, and I selected one that looks pretty good at first glance. It is graded only as "authentic" by SGC due to a small surface tear along the lower right corner from the edge of the card to the border of the black and yellow nameplate. It looks like the card may have had a small piece of tape in the area that picked up a piece of the surface when someone tried to remove it, creating a tear. The corners look to be in very good condition and the centering is representative of many '52 Topps cards. This card does a convincing job of playing the role of '52 Topps Snider in my collection.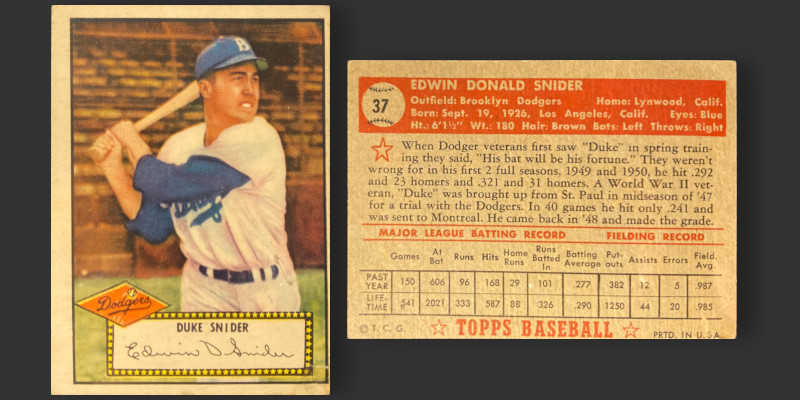 I purchased the card not from the owner, but rather his daughter who was helping him man their booth at the show. She didn't know which card belonged to what set, but we made the transaction work given each card at the table had been priced with small stickers on the back of their respective cases. I was happy with the Snider card and she ran over to her father saying, "Dad! I made a sale!"