Rookie card mania was in full swing as the 1980s approached the latter half of the decade. Collectors chased the debut cards of Don Mattingly and Jose Canseco to stratospheric heights while beginning to set aside a decade-long obsession with error cards. Collections were being reoriented so that the primary goal was to amass the greatest collection of rookie cards.
This had not always been the case. A perusal of early hobby publications and price guides shows the previous decade had been focused on assembling complete sets and finding cards depicting players in award-winning seasons. Rookie cards had a bit of a following, but nowhere near the esteem to which they began to be held in the decade of hair bands and cassette tapes. Perhaps no team captured this rookie card attention like the New York Mets.
The Mets Rekindle Memories of 1969
The New York Mets are a team seemingly created by committee and have often played like it. The club debuted in 1962, five years after the Dodgers and Giants decamped New York City for California. Mets' uniforms reflected the design by consensus with ample use of Dodger Blue and random accents of Giants orange. Their baseball caps feature a straight up copy of the abandoned New York Giants logo against a blue background. The team even utilized Yankee pinstripes in their debut look.
Early Mets teams were bad, going 40-120-1 in their first season. For the next seven years the team finished either last or next to last in the standings. Then, slowly, as discarded veterans selected via expansion draft began to age off the roster, a core of young players began to replace them in the starting lineup. The team was still terrible, but its makeup was changing.
In 1969 the team began to hold its own, led by a trio of pitchers barely out of school. Tom Seaver, Nolan Ryan, and Jerry Koosman suddenly started doing something the Mets had not previously thought of: Getting batters out. The team made the playoffs, sweeping Hank Aaron and his Atlanta Braves to get to a surprise World Series appearance. The Mets then proceeded to beat the seemingly unstoppable Baltimore Orioles who had finished 19 games ahead of their closest competitor. The team, dubbed the "Miracle Mets" for their improbable season, had redeemed themselves through a crop of rookies.
Of course, there is a reason baseball fans still refer to the Mets as a miracle team. The moniker likely would not have stuck if the club had gone on to dominate the 1970s with superb play. Seaver and Ryan left for other teams, magical seasons from several key offensive contributors proved to be one-time affairs, and the dreams of a repeat performance soon died alongside manager Gil Hodges.
A decade later, the Mets' cellar dwelling standings gave the team the first pick in the 1980 MLB Draft. Their selection was Darryl Strawberry, a player that made much of my family fans of the team when he lit up our local minor league team's ballpark on a regular basis. Strawberry debuted in 1983 and immediately drew comparisons to Willie Mays (sans defense). Baseball card manufacturers didn't see him coming and omitted him from each of their major '83 checklists. Topps added him to its end of season Extended set (now known as Topps Traded), instantly creating a must-have card for collectors.
Just prior to Strawberry's MLB debut came the selection of another quality pick in the draft. The Mets signed Dwight Gooden in 1982 and he responded by taking home the Rookie of the Year Award in 1984. Collectors again responded with insatiable demand for rookie cards of "Dr. K." Ron Darling, Lenny Dykstra, and other newcomers joined alongside recognized names like Keith Hernandez to put the team back in contention, culminating in the 1986 World Series title. The Mets were once again on top and largely had a group of top-flight rookies to thank for it.
The Next Big Thing
One year before winning it all, the New York front office made another first round splash. The Mets signed a highly touted two-sport high school star named Gregg Jefferies. He destroyed low-level minor league pitching, racking up a .326 average in the remaining '85 season and hitting .353 across three leagues in '86. He improved again in 1987, batting .367 while waiting for any position to open up in the stacked lineup of the defending champs. The Mets brought him up for a couple games at the end of the season, a period in which he casually hit an even .500 against major league pitching.
Jefferies looked ready to jump into the Mets starting lineup for 1988, but seemingly every position remained blocked by top-level talent. The obvious solution was to trade away someone with name recognition and open up a spot. This process would take time, so Jefferies once again found himself tearing up the minors. He won two consecutive Minor League Player of the Year Awards.
By this point most of the baseball card world had taken notice. Donruss, Fleer, and Score all produced rookie cards. Donruss and Score didn't know what position he would play and simply labeled him as an infielder. Fleer predicted Jefferies would supplant Kevin Elster as the team's shortstop. These cards, shown on the top row of the assortment below, were the year's hottest cards by the end of the season. A Beckett price guide from September of that year shows collectors were routinely shelling out close to $10 to nab this trio, with individual cards going for roughly double the market rate for any other card produced that year.
The Donruss card was initially the most popular. While the 1988 Donruss set is widely considered to be massively overproduced and easily attainable, several of the higher number cards were produced in half the quantity of other cards to make room for the printing of that year's MVP bonus cards.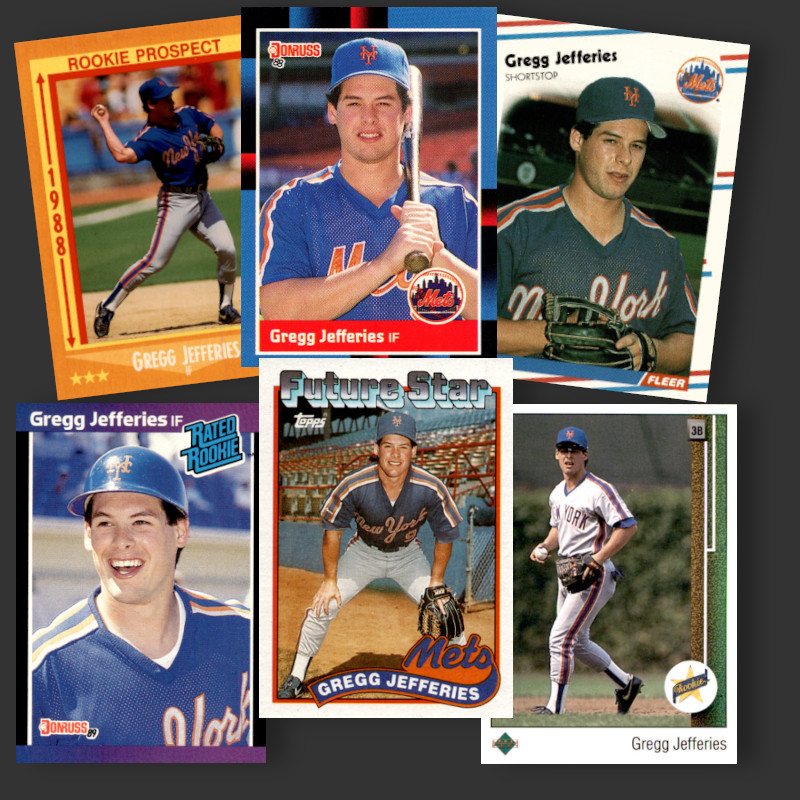 New York eventually figured out a trade that would open the path for a permanent lineup spot for Jefferies. The team had been platooning several players at third base in 1988, including .300 hitter Wally Backman. Backman was sent to the Minnesota Twins and the platoon system was dismantled to bring up Jefferies. He played in 29 games, hitting .321 at the end of the season.
Based on this performance and a burgeoning collecting hobby his cards were in even more demand the following year. Every major manufacturer made sure to give him a prime position in their products. Donruss identified him as one their Rated Rookies. Topps gave him the Future Star treatment while Upper Deck placed him in their similarly titled Star Rookie subset. Initial pricing data contained in the February 1989 edition of Beckett Baseball Card Monthly shows Jefferies' Rated Rookie was being assigned almost twice the value of the now more recognizable Ken Griffey, Jr. card.
It wasn't just the inclusion of his cards in flagship card releases that announced Jefferies was the focus of the hobby. He was regularly appearing on the cover of card collecting publications.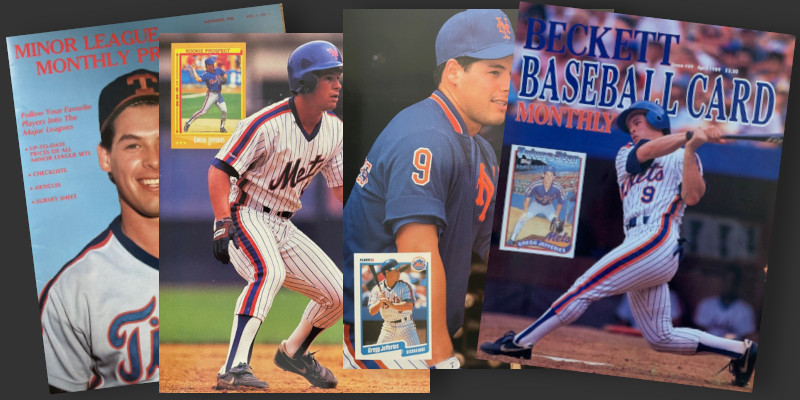 After the Cover Stories Disappeared
With regular playing time now coming at him, fans finally could start using their eyes instead of their imagination to follow Jefferies' assaults on the baseball record books. His first full season was somewhat underwhelming given the massive expectations that had built up. Batting .258 in 1989 with a dozen home runs, the player seemingly preordained for Rookie of the Year honors seemed much closer to the departed Wally Backman and platoon partner Tim Teufel. Grumblings from within the Mets clubhouse became audible as many of the Mets' established players didn't enjoy his company (Not a terrible thing in my opinion, that team had a lot of messed up people on the roster).
Rookie jitters aside, Jefferies then went on to put together a respectable, above average decade of play. His offense improved. Defense didn't really get any better with time, but a shift to first base solved most of those issues and turned him into a serviceable component of any infield. Mets fans became impatient and many of the club's stars bolted for more lucrative free agent offerings. New York traded away Jefferies for star pitcher Bret Saberhagen prior to the 1992 season. A year later he finally put together a couple seasons resembling his minor league success, batting .341 in 1993 and posting a similar performance in the strike shortened '94 campaign. His numbers settled back down from 1995-onward, though that is still good enough to outrank more than 95% of guys who ever played the game.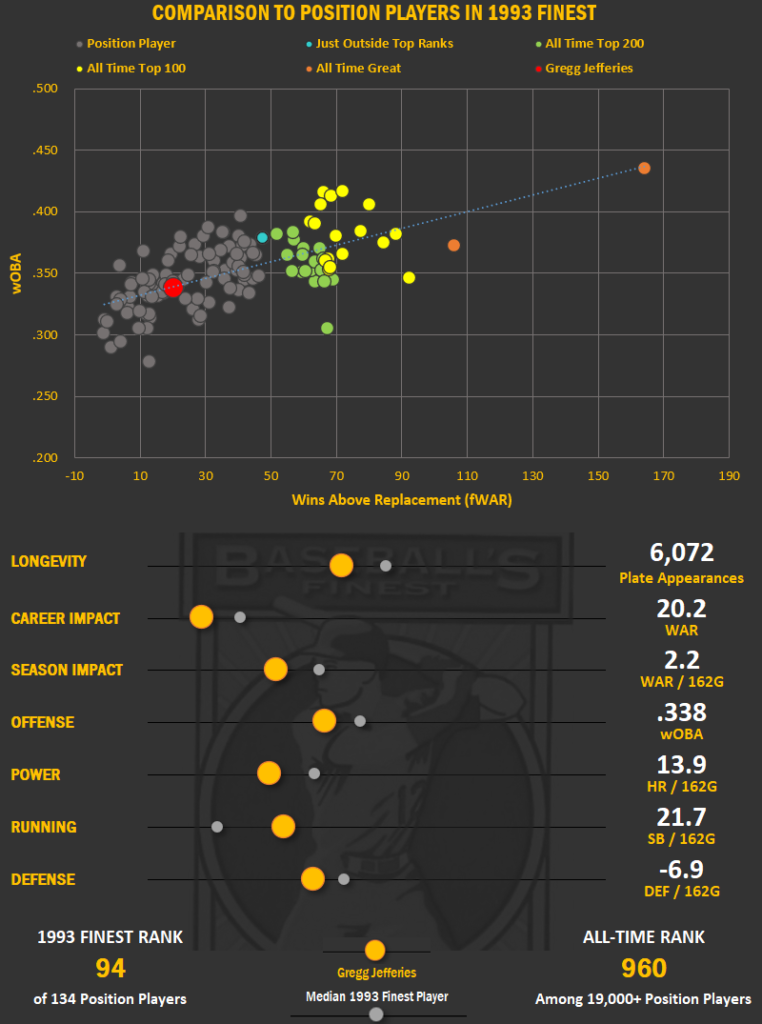 1993 Finest
Card collectors may have moved on to newer and shinier stars in 1993, but they had not forgotten Jefferies. His cards no longer were the objects being chased in late-'80s wax packs but they still commanded respectable positions withing the price guides' ranking of the 1988-1989 checklists. These cards would continue to get individual listings well into the late 1990s before being bumped in an effort to squeeze in more listings. Even today someone shuffling through a box of '88 Donruss cards will stop and show others when a rookie of the first round pick is discovered.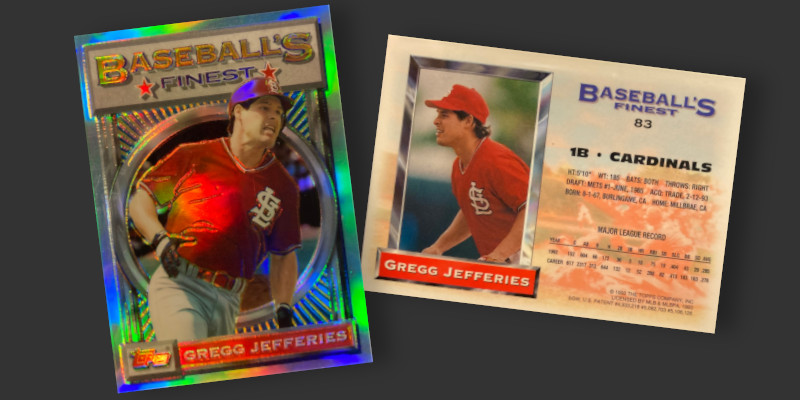 With this in mind, Topps included Jefferies in the 1993 Finest checklist. This is notable considering Topps limited the number of players depicted to the game's top 199 players. Jefferies is shown in action wearing his newly acquired Cardinals uniform, something of a novelty considering most sets that year used pictures from his one season stint with the Royals. The deep red of his jersey makes for one of the most impressive refractors in the set. This would go on to become perhaps the best card of his career in what would turn out to be his best season. With memories of the hype surrounding his rookie cards fading, perhaps a nod to the old style of collecting players' best years can be seen in a set that marked another shift in the way we collect.