The 1994 strike shortened season featured a ton of what-ifs. Would Tony Gwynn have hit .400? Would the Expos have won it all in the World Series? How would the labor dispute affect Cal Ripken's consecutive games streak? Would Michael Jordan have continued his baseball career instead of returning to the NBA? Most importantly to the middle school version of me, would anyone break Roger Maris' single season homerun tally?
This was seemingly an idle question in the early '90s, as only three players had even hit 50 since Maris topped Babe Ruth's record. Of those three, only Cecil Fielder was still an active player and it was becoming apparent that hitting 50 represented the top end of his performance. What prompted speculation on my part was the fact that one player stayed on pace all season to hit 61. By the time the season came to a premature end, Matt Williams had hit 43 homeruns in only 115 games.
Topps tried to answer some of these hypotheticals when baseball cards returned to shelves in 1995. Included in packs were parallel versions of regular cards that included the results of a computer simulated conclusion of the 1994 season. These "Cyberstats" inserts made the claim that one player was likely to have matched Roger Maris' 61 HRs had the season been played in full.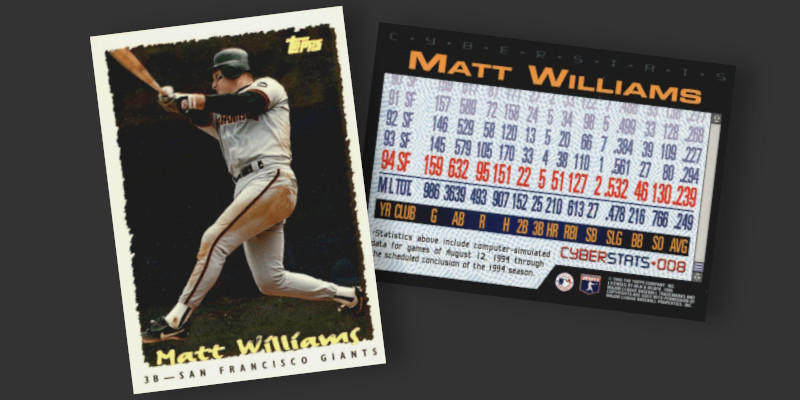 Surprisingly, it was not electronic version of Matt Williams that accomplished the feat as Topps projected him to collapse offensively in the final weeks and end the year with 51 homeruns and a .239 batting average. Instead, it was Williams' teammate batting behind him that hit 61 homeruns in Topps' model.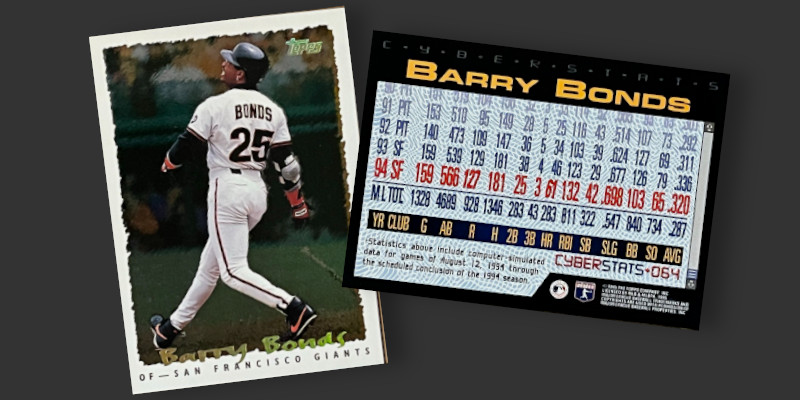 Matt Williams was a phenomenal offensive force on his own, but it was the one-two punch of teaming him up with Bonds that enabled his chase of the single season record. Williams almost always batted third in the San Francisco lineup with Bonds batting cleanup right behind him. The result was pitchers being terrified to walk Williams in the face of potentially battling Barry Bonds with a man on base. Williams walked only 33 times all year, a tally inconsistent with the treatment afforded to others who chased the homerun mark. The Giants' infielder who spoke with a unique voice actually had more homeruns than walks during this period.
Though he appears in the Mitchell Report, Williams generally gets omitted from discussions of the most feared hitters of the Steroid Era. This is unfortunate, as he actually put together a 162-game stretch in which he tied the homerun record and did so years before Sosa, McGwire, and Bonds came calling. Beginning with a pair of homeruns hit September 12, 1993 Williams hit 6 HRs in the final 21 games of the season. He added 43 more in the 115 games of 1994, and another 13 across the first 35 games of 1995. That is 62 HRs in 161 games.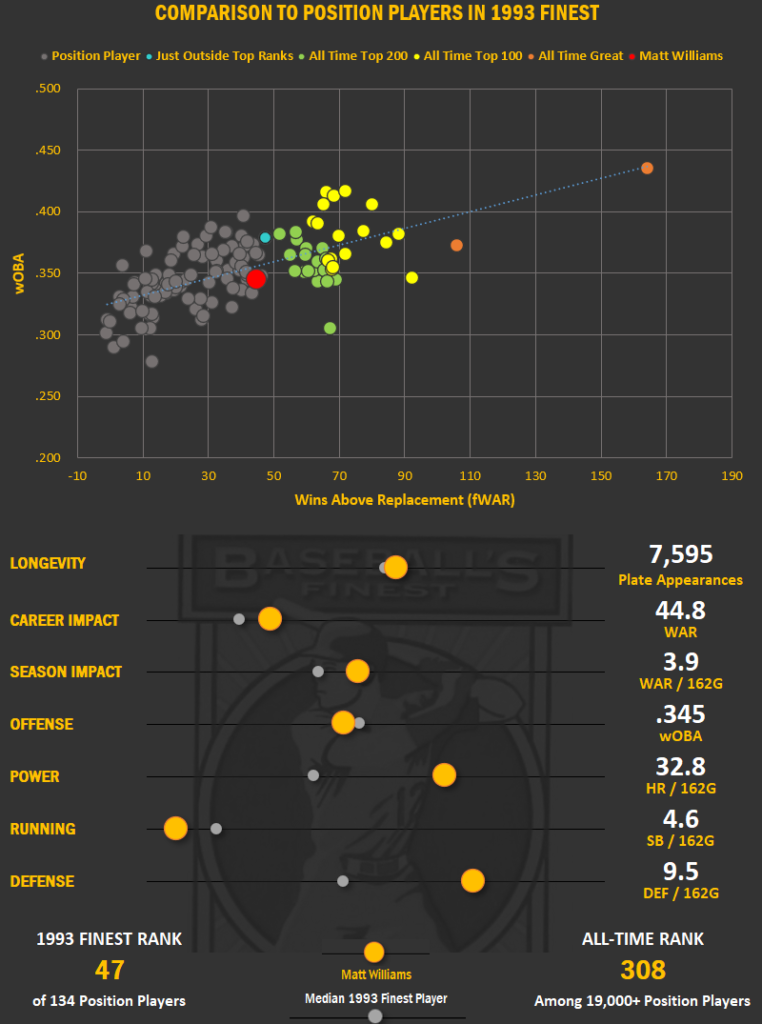 Williams appears in the 1993 Finest set in the first year of his three-season HR chase. His card was one of the handful that eventually garnered a short print designation in price guides, though today there appears to be no difficulty in locating a copy. I somehow got to 75% of the way towards completing the set before landing Williams as my first example of a San Francisco Giants card.