The back of Dom DiMaggio's 1952 Topps card casually states he is the youngest of three brothers who played Major League Baseball. I guess no further introduction was needed with the name DiMaggio printed on the card. I like to refer to Dom as "the good DiMaggio" for several reasons.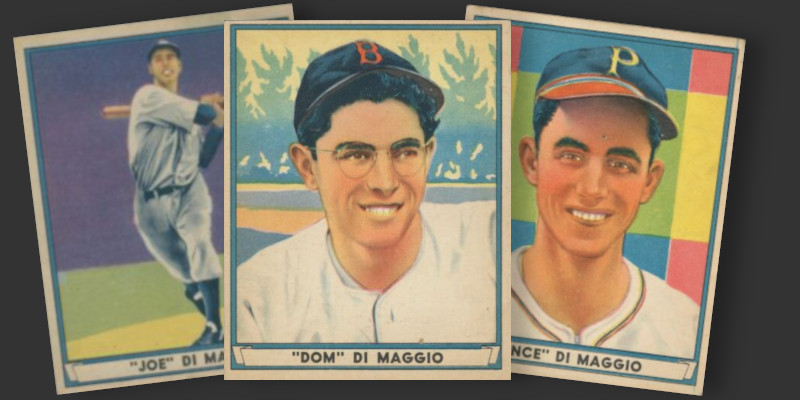 Each of the DiMaggio brothers was a force on the diamond. All three were starting center fielders, even giving the DiMaggio name to 19% of all starting players at that position from 1940-1942. The elder brother, Joe, is well known even outside baseball circles. I have him ranked as the 25th best player of all time and would need to bump that assessment higher had WW2 not interrupted his playing time. Vince, the middle brother, could hit for power but struggled with a middling batting average.
Dom Was Good on the Diamond
Dom was no slouch when it came to baseball skills. He generated wins above replacement at a higher rate than Pete Rose, Ichiro Suzuki, and Jeff Kent. He put together a 34 game hitting streak that still stands as a Boston record. Playing in only 11 seasons, Dom was selected for 7 all-star teams. During the years he was active (1940-42,1946-1952) he had more hits (1,670) than any other MLB player. This period also places him second in runs scored and third in doubles. Defensively he was the best centerfielder of his generation and might be the best in Red Sox history. He lost much of his prime years to military service and retired early when Boston's front office elected to give younger players more playing time. Different circumstances could have led to a Hall of Fame selection.
Off the Diamond
Dom looks even better away from baseball. He comes across as a much more pleasant human than his ever temperamental brother Joe who became estranged as his idiosyncrasies became more pronounced.
Dom volunteered for the Navy as World War II built momentum. Initially turned away due to his eyesight, persistence eventually got him into the war.
He also had good business sense. Dom built up a rubber manufacturer that supplied the automotive and packaging industries, eventually expanding to take over and save a struggling rival. He achieved financial success with these ventures and became a philanthropic force in the Boston area. He helped his fellow ballplayers, assisting in the formation of an early version of the MLB Players Association.
The Super Bowl takes place today, bringing together one more Dom DiMaggio thread. Dom was heavily intertwined with the Boston business community in the 1950s. One of his contacts was Billy Sullivan who acquired the rights to create a football franchise in Boston for the newly formed AFL. Sullivan needed funds to actually launch the team and turned to Dom as one of his backers. Dom provided the cash and the NFL team now known as the New England Patriots was born.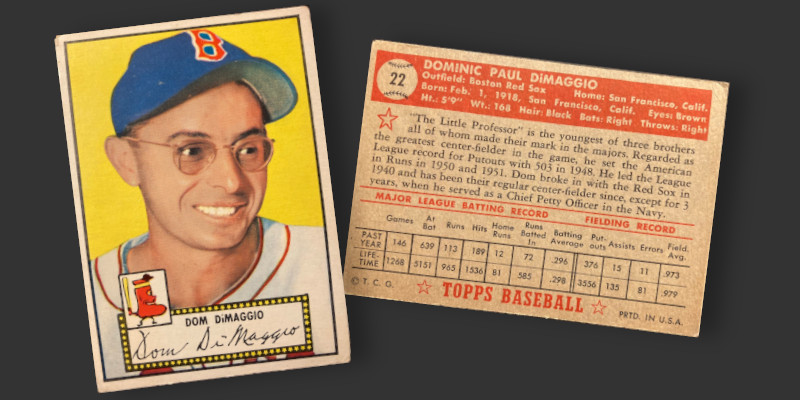 This '52 Topps card was purchased entirely with eBay bucks, making it sort of "free." The coloring is very strong on this example.