40 Home runs is a magic number. Hitting this number of longballs in a season is enough to lead the league approximately 40% of the time in any given season of the past 100 years. An annual tally of 40 or more is a necessity for anyone even considering making a run at 700+ career homers. Few players play 20 seasons, and to reach 700 in that span a batter must average 35 per year, inclusive of early career efforts to secure playing time and declining years approaching middle age. Of the more than 20,000 position players in baseball history, only a select few ever averaged 35 HRs or more. Hank Aaron averaged 37 per year. The 40+ club is even more exclusive with only 10 MLB players posting career rates of 40 or more per 162 games played.
When looking at any newly arrived power hitter, one of the questions that bounces around my mind is how likely is it that this player will approach the game's records. Guys that can actually produce at the 40+ HR level from the outset are rare and grab one's imagination. Mark McGwire holds the mark for highest HR/162 games (50) but lacked consistency in health to mount a serious challenge to the career home run record. Sammy Sosa eventually put together average production of more than 40 home runs, but this only came about late in his career with a series of 60+ HR seasons. Barry Bonds likewise benefitted from a late power surge that still dogs his reputation to this day.
There was, however, another player in the early 1990s that was able to hit tremendous quantities of homeruns from the outset. Juan Gonzalez garnered the nickname "Juan Gone" as he set about averaging 41.6 HRs per 162 games played. That mark is good for the sixth highest average of all time, a ranking that will likely move up a notch or two as Giancarlo Stanton and Aaron Judge age.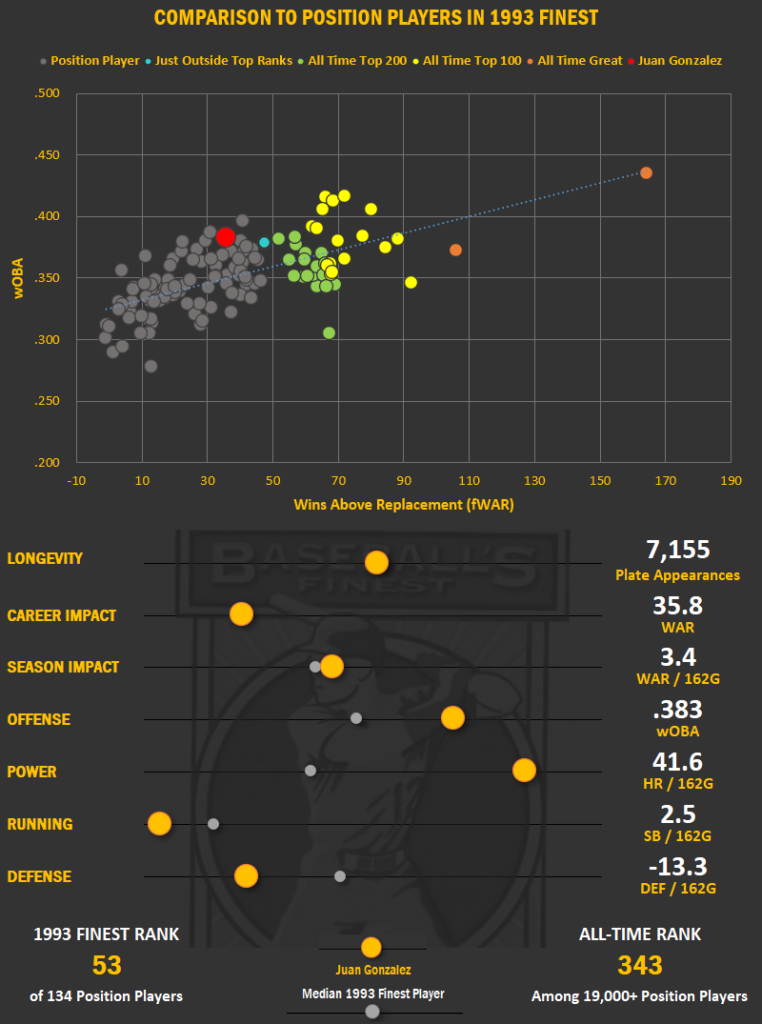 Gonzalez hit the ball hard throughout his career, but ultimately did not have the staying power to play enough games to seriously challenge the totals of Ruth and Aaron. His HR/162 rate was tremendous, but he only twice ever played more than 90% of a season and averaged less than 100 games per year. The result was a career total of 434 home runs.
Still, collectors in were doing the math about his potential in the mid-1990s. Gonzalez's 1993 Finest Refractor was designated as a being particularly scarce by Beckett in 1995 and it quickly became the chase card for anyone looking to build a player collection. Just prior to the Griffey/McGwire/Sosa HR chase of 1998, this card became one of the most sought after components of the set and saw its price equal that of Nolan Ryan. Four-figure prices were common for this card in a two year span. Back then, a someone inquiring about the status of building a set would ask a collector, in order, if they had yet located the Ripken, Griffey, and Gonzalez cards.
As a home run hitter, I was a huge Gonzalez fan during the '90s. When I rebuilt my collection a few years ago I made sure to include him among a group of players of which I acquired autographed cards. Like the others, this one is from the 2014 Topps Five Star set. I love the enthusiasm on his face as he runs the bases in the card's action shot. Before making it the majors, Gonzalez reportedly was told he could not play any baseball outside of his team's official games and practices. Gonzalez promptly joined a local co-ed softball league, skirting the letter of the law so he could get in more bat and ball fun. Somehow that comes across in this card.
Further Reading: Be sure to check out JuanGone.com, a site dedicated to collecting cards of Juan Gonzalez. It hearkens back to an earlier age of the Internet and still remains an active place to discuss cards of the Rangers' HR threat. There's a good group of collectors over there.