The back of Ray Murray's 1952 Topps card mentions his nickname of "Deacon." The most popular origin story for the nickname focuses on a running beef with home plate umpire Ed Hurley. The story goes that after one particularly upsetting call in 1954 Murray took off his catching gear, dropped to his knees, and loudly prayed for the obviously blind umpire to receive his sight.
That's a hilarious story, but it can't be the origin of the nickname given that he is called Deacon in the biographical text of his 1952 card. The more likely explanation is found in multiple biographical notes telling of how he used to preach to teammates on minor league bus rides in the 1940s.
Murray was a backup catcher on each of the three teams he played with. Backups are backups for a reason, and his stats bear this out as a fair decision on behalf of the general managers. Murray did have a good arm and was known for throwing out would-be base thieves. After retiring from the game he continued to catch thieves as a deputy sheriff in Texas.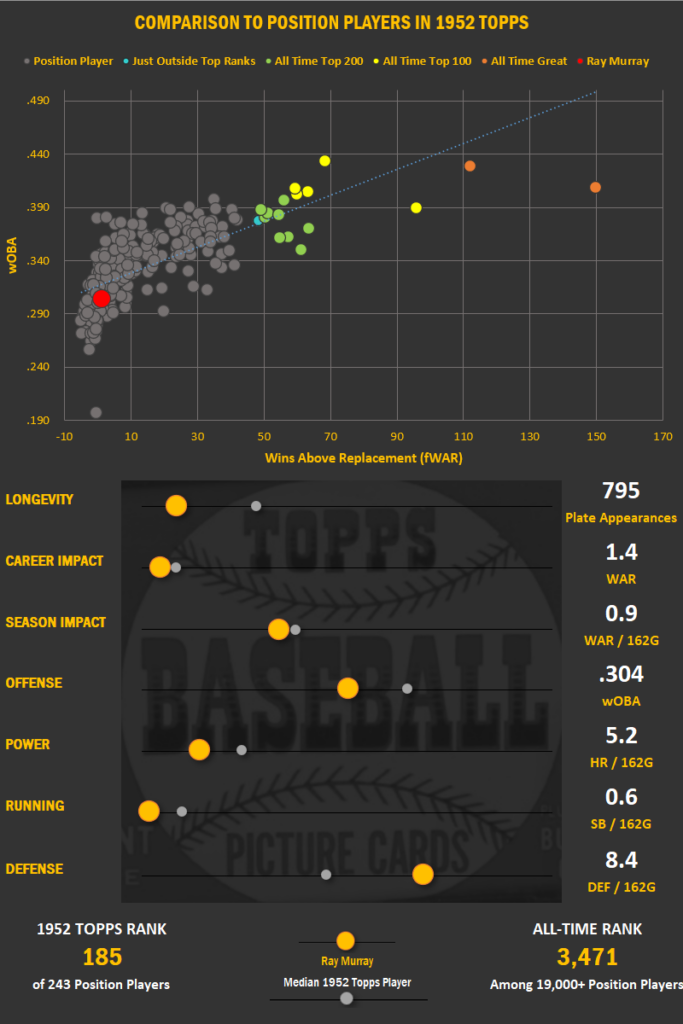 Murray played for the Athletics and at one time was a batterymate of a distant relative of mine. One card from Murray's career that I find interesting is his 1954 Bowman #83. It features a poorly cropped photo of the smiling catcher at a Spring Training field. He is decked out in an Athletics uniform that looks very different from what is normally seen. The "A" on the ballcap is bright red and the name "Athletics" is written in that classic script that adorns Little League uniforms across the country.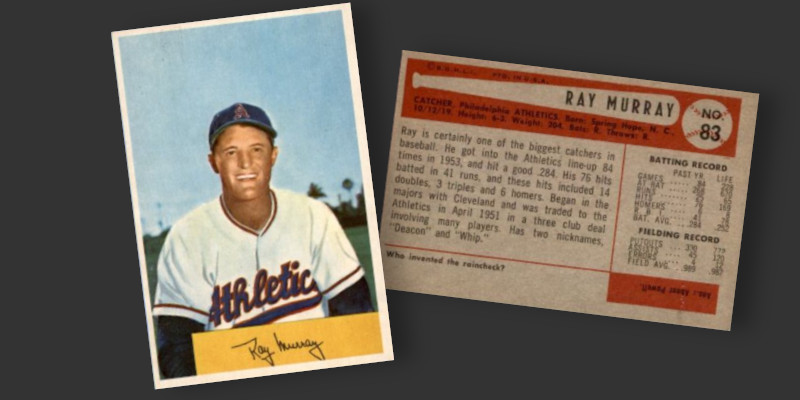 Deacon Murray in 1952 Topps
I'm excited about this card. Murray appears on card #299 in the '52 Topps set, placing him in the tricky semi-high number series comprising cards #251-310. This is my first card from the series which is thought to be printed in much lower quantities than any of the lower number parts of the set. I agree that cards from this series are in shorter supply and blindly estimate that there are perhaps half as many produced. Perhaps Deacon Murray could put in a good word for me and get me some help on finding the real number.