A major shift took place in the realm of collecting baseball cards several decades ago. Prior to the 1980s, many collectors focused on building sets or collecting teams. Those that focused on an individual player typically did not prize rookie cards above the rest, but rather focused their efforts on finding cards from the seasons in which a ballplayer won a major award. Collectors didn't want a 1958 Roger Maris rookie, they wanted his 1961 card to remember his record home run performance. During this era price guides put special emphasis on award winners, denoting winners of each year's hardware in the listings for each set.
That changed as the hobby experienced a widening of interest in the late 1970s/early 1980s. People who had grown up in the golden age of cards suddenly found themselves entering a period in which they finally had the disposable income to offer premium prices for cards they had always wanted. Against this backdrop of rising financial resources there came the arrival of pitching sensation of Fernando Valenzuela. Because Valenzuela had never appeared on a baseball card prior to this time, every card of his was a rookie. Collectors did not have an earlier well of past issues to draw from as they sought to have "the next Koufax" added to their collection. Valenzuela cards suddenly drew prices from eager hobbyists that would have been unimaginable just a few years earlier.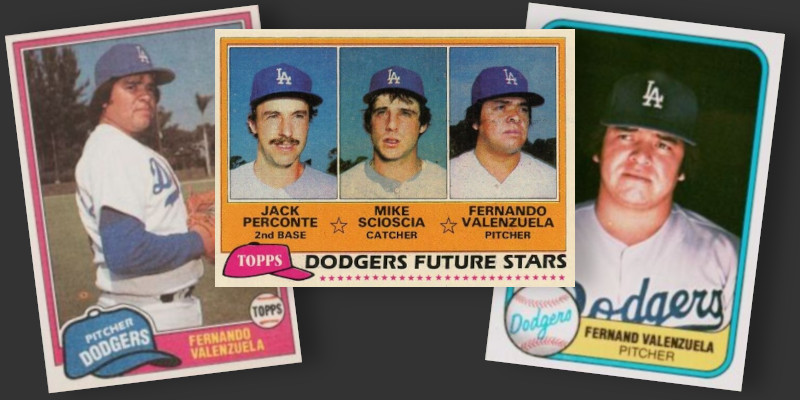 Even though these cards could be obtained for only a few bucks, the principal of potentially high profits for those who accurately forecast his rise struck a chord. There was suddenly an effort underway within the collecting community to identify the next Valenzuela. Those engaged in "prospecting," as the activity would come to be known, did not have to wait long. By 1983 they would willingly exchange their Valenzuela rookies for a guy with a broken neck and a previously failed minor league career.
The Next Big Thing
One of Valenzuela's rookie cards features three different Los Angeles Dodgers rookies. Mike Scoscia, the team's mainstay catcher for the rest of the decade, sits in the middle of the card and had worked his way up from A-level ball in Clinton, IA four years earlier. In one of those games Scioscia hit a double that sent newcomer Ron Kittle flying toward home plate in his first game with the team. Kittle dove across the plate but had a bone in his neck break when the catcher awkwardly fell on him while trying to make the play. Not realizing the severity of the injury he tried to play through it, ultimately being released by the Dodgers half way through the 1978 season and discovering that he was one big hit away from being paralyzed for life.
That, it would seem, would be that for most people. Kittle had his shot, got injured, but had a good job in the steel mills of Gary, Indiana ahead of him to fall back on. Kittle, it turns out, doesn't take hints very well. He immediately jumped into a local semipro league and rapidly built strength working with his ironworker father. During one of these games he hit a ball over the outfield wall and sent it screaming into traffic on I-294.
A former White Sox pitcher was watching the game and immediately recommended he be signed by Chicago. Other tellings of the story (sometimes from Kittle himself) say this hurler and White Sox owner Bill Veeck were driving on the interstate and were nearly hit by the ball struck by Kittle. In this version the pair immediately turned around and demanded to know who had hit this Babe Ruthian-shot.
Kittle started his new baseball career slowly before taking off in 1981. That season he belted 40 home runs in just 109 games with the White Sox' AA affiliate. In 1982 he raised the total to 50 with 144 RBI and a .345 batting average. Those numbers just scream "Major League All-Star" and card collectors took note.
Kittle broke 1983's Spring Training as a member of the White Sox, complete with his very own rookie card in that year's Fleer set. Kittle and his rookie card were a success. He hit 35 HRs with 100 RBI while being named Rookie of the Year. His card was all that collectors wanted in '83 and it became the first time many tried to acquire large quantities of a single card. The rookie card had gone from a hobby novelty to something of financial importance seemingly overnight.
Kittle's career didn't quite live up to the promise seen in his MLB debut and minor league history. He played a decade of above average ball (Career OPS+ of 110) but was generally left alone by the hobby once it found the next Ron Kittle (Don Mattingly) or Fernando Valenzuela (Doc Gooden) in 1984. He didn't rewrite the MLB record book, but for a time there was hope among baseball card collectors that he could. He did, however, usher in a change in the way they approached the hobby and that has probably been a bigger impact. This guy changed the way you collect cards.
Billy the Kid
So who was this "former pitcher" that brought Kittle back to his Major League path? It was nonother than the best pitcher in modern White Sox history, Billy Pierce. Pierce spent 90% of his 18-season career on the mound for Chicago, routinely befuddling opposing teams with alternating fastballs and sliders. He completed nearly half of all the games in which he started and generated one of the era's highest strikeout rates per 9 innings. He missed throwing no-hitters by a single hit on four occasions, including a perfect game that was broken up with 2 outs in the 9th inning.
Pierce had very impressive rate stats, going as far as to capture the 1955 ERA title with a reading of 1.97. This wasn't a fluke, as shown by a career 3.27 FIP. Strikeouts came at a rate nearly double that of walks. Hitters struggled to hit better than .230.
BBWA members voting on inclusion in the Hall of Fame excluded him from consideration after he captured less than 2% of the vote in his second year of eligibility. That's a shame considering Pierce's key stats match almost exactly with that of Whitey Ford. He also compares extremely well with HOFer Hal Newhouser (a former teammate) and looks statistically a lot like Dave Stieb, Luis Tiant, and Vida Blue, guys who have a faithful group calling for their reconsideration for the Hall.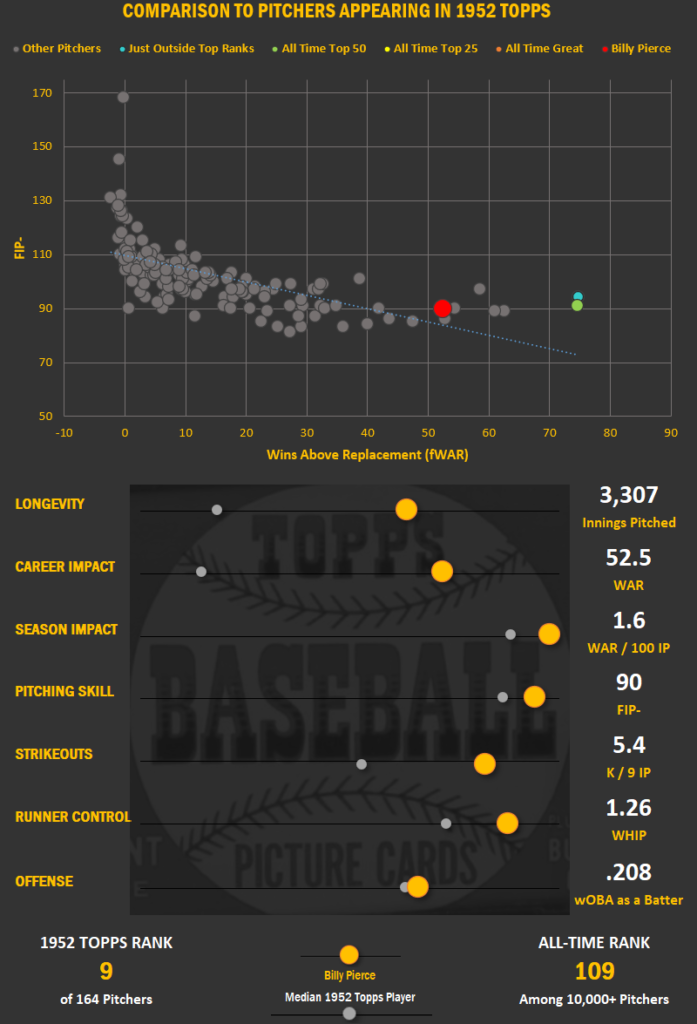 My '52 Topps Pierce Card
I'm super excited to add this card to my set building project. Pierce is a big name, yet his cards are almost always found inside common bins. A $5 card from 1952 Topps featuring a player of this caliber? Jackpot! He's one of the set's top-10 pitchers and it took the arrival of guys like Justin Verlander and Clayton Kershaw to knock him out of the game's all-time top 100.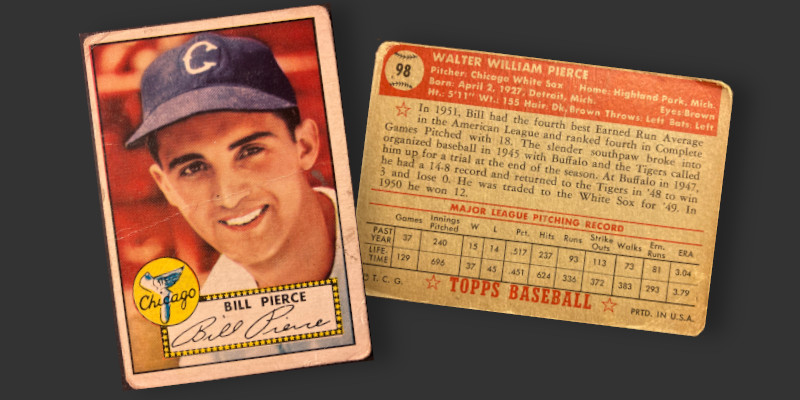 It's not just Pierce's name and stats that make this a good card. While primarily composed as one of the issue's ubiquitous close-up portraits, this one actually features a good photograph coupled with attractive framing relative to the placement of the White Sox logo. Speaking of team logos, the addition of this card takes my White Sox team set completion status up to 50%.