I was happy to see Jose Rijo included in the checklist when Topps introduced its Finest product line in 1993. They weren't adding him just to please me, as Rijo was coming off of some serious postseason runs and his pitching placed him far above the effectiveness of many big-name players. His 1993 pitching wins above replacement was 7.1 and 8.0 if including offensive contributions.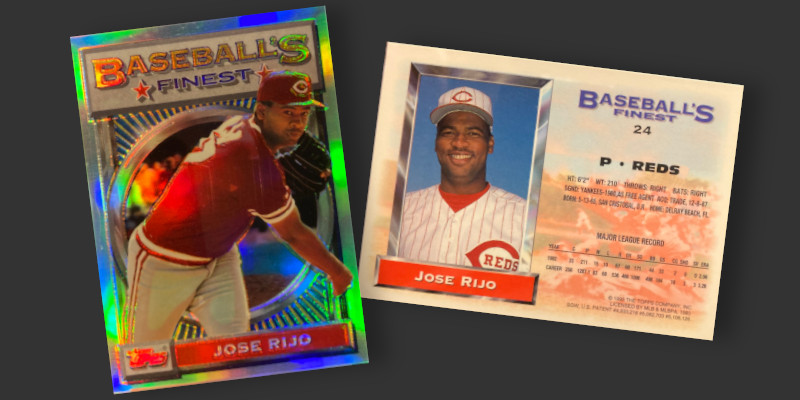 Rijo was fun to watch and his cards surprisingly easy to obtain through trading with friends. This may have resulted from them viewing him as a knock-off version of Fernando Valenzuela. This view was probably incorrect, as Rijo was signed by Yankee scouts during Valenzuela's first season with the Dodgers and just ahead of 1981's "Fernando-Mania." It does, however, sound like something George Steinbrenner would have ordered in response to rising Dodger ticket sales. All I know for certain is I liked Rijo's cards and my collection seemed to be a magnet for an inexplicable number of the ones issued as part of the 1991 Score set.
What Rijo Looked Like by the End of 1993
Cincinnati's ace pitcher looked like he was on his way to a Hall of Fame career by the time collectors were opening '93 Finest packs. Through the end of the season he was 28 years old and had logged 1,717 innings in 292 games. The performance of his first 10 MLB seasons stacked up well against the first 10 of some of the best players from the 1960s, the "Decade of the Pitcher." While peak performance Koufax and Gibson would have beaten Rijo, the totality of their first respective decades aren't all that far apart.
| Player (10 Year Comparison) | IP | W-L | SO | FIP- | WAR |
| --- | --- | --- | --- | --- | --- |
| Sandy Koufax (1955-1964) | 1,665.2 | 112-70 | 1,697 | 79.8 | 35.5 |
| Bob Gibson (1959-1968) | 2,205 | 147-97 | 1,850 | 80.7 | 46.5 |
| Jose Rijo (1984-1993) | 1,717 | 97-77 | 1,494 | 80.0 | 33.0 |
Injuries were a constant battle for Rijo, ranging from an ailing arm to a broken ankle. Tommy John surgery eventually arrived as an entry on his medical charts in 1995 and was followed with several additional surgeries. Attempts to bounce back from these procedures failed and he appeared on his way out of the game after being released to free agency in 1998.
The Hall Calls (Twice)
Having last pitched five years earlier, Rijo made the cut for the Baseball Writers Association of America screening committee and was one of 32 players under consideration for the 2001 BWAA Hall of Fame ballot. He received one vote, falling off the ballot alongside fellow '93 Finest checklist members Lou Whitaker, Tom Henke, John Kruk, Andy Van Slyke, and Howard Johnson.
Under voting rules a living player cannot appear on the ballot until five years have passed from their last MLB appearance. This rule has been in place since 1954 and serves as a buffer to keep swelling nostalgia for recently retired players from affecting the vote. A shorter buffer of one year existed from 1946-1953. Prior to that period it was possible for active players to earn votes (Joe DiMaggio received a vote in 1945).
Here's where it gets interesting: Jose Rijo's arm finally recovered in 2001 and he returned as a reliever in the Cincinnati bullpen late that year. He became the first player to play in an MLB game after receiving a HOF vote in 25 years. His predecessor in this feat was Minnie Minoso, who went 1 for 8 in 1976 after a 12 year absence. Minoso also came to the plate twice in 1980, though his '76 and '80 appearances were considered publicity stunts rather than competitive baseball.
Rijo appeared in 13 games in 2001. Showing this wasn't a fluke, he grabbed another 31 appearances in 2002, including 9 as a starting pitcher. His arm, showing the injuries weren't flukes either, flared up again and derailed the opportunity to continue pitching in 2003. Rijo retired for good this time and again appeared on the BWAA Hall of Fame ballot in 2008.