A few weeks ago I sent a group of 10 cards to SGC for grading and encapsulation. The black and white "tuxedo" style slabs have become my favorite over time. Combined with grading standards that generally match my own and a slight price discount compared to PSA, the service has become my preferred choice for graded cards added to the collection. I really like the way these cards look in the storage cases I built to house some of my set building projects.
Expectations and Results
7 of the 10 cards sent to SGC were to be graded. Here is what was sent, along with my estimate of how the cards would come back.
1934 Goudey Carl Hubbell
I expected a grade of poor with a possibility of SGC only opining that the card is authentic. The front shows the obvious issues of rounded corners, creasing, and some minor paper loss. The back, however, has some text scratched out and a piece of tape stuck along the top border. I have previously seen SGC assign a grade of "1" to cards with tape affixed and a grade of "Authentic" to cards with tape obviously having been removed. Given the rough condition of the underlying card, I wasn't entirely sure how the grading staff would approach this one.
Expection: 1 Poor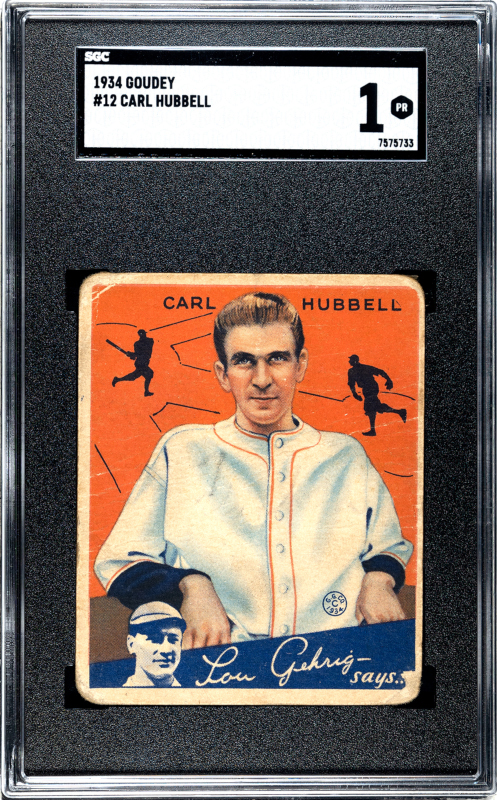 1948 Leaf John L. Sullivan
This boxing card looks like it spent some time in the ring with Sullivan as well. It obviously had no hope of getting anything better than a 1 given the heavy crease, corner wear, and paper loss inside the nameplate.
Expectation: 1 Poor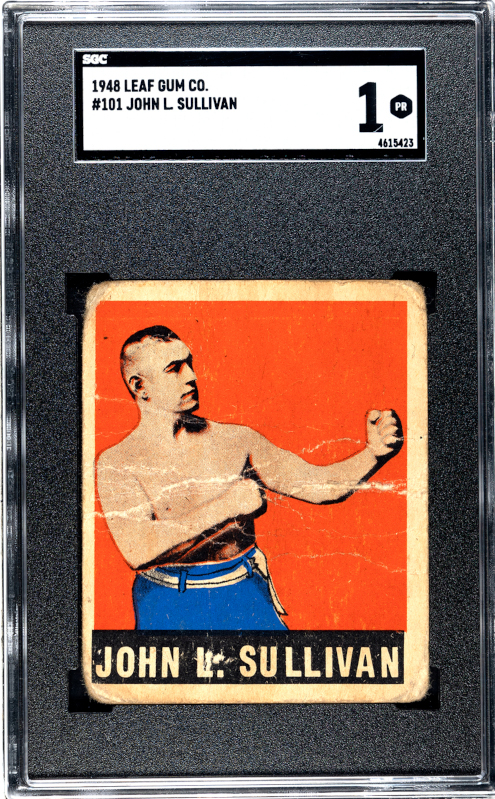 1949 Leaf Sid Hudson
This is one of a pair of cards I had originally purchased inside CSG holders for a total purchase price of $15. I completely agree with CSG's initial assessment that this card is in Very Good condition, largely due to some pretty rough centering and a small wax mark on the back. Wanting to know if the two grading services with anagram initials would see the card the same, I cracked it out of the holder before sending to SGC.
Expectation: 3 Very Good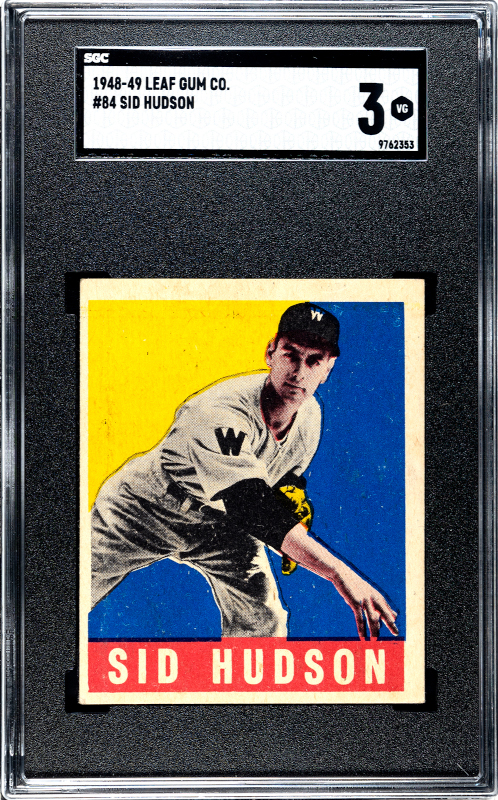 1949 Leaf Ralph Weigel
Like the Sid Hudson card before it, this Leaf common was also freed from a CSG slab before being graded by SGC. Once again I found the CSG accurate but made sure to send to SGC without any trace of its previous grade. SGC again followed through with an identical assessment of the card's condition. Based on this experience and having the cards in hand I can say CSG's grading looks pretty spot on. With the pair of cards costing less in CSG holders than the cost of simply grading a single card with SGC the option of seeking out CSG-slabbed items in the future looks pretty attractive.
Expectation: 4 Very Good-Excellent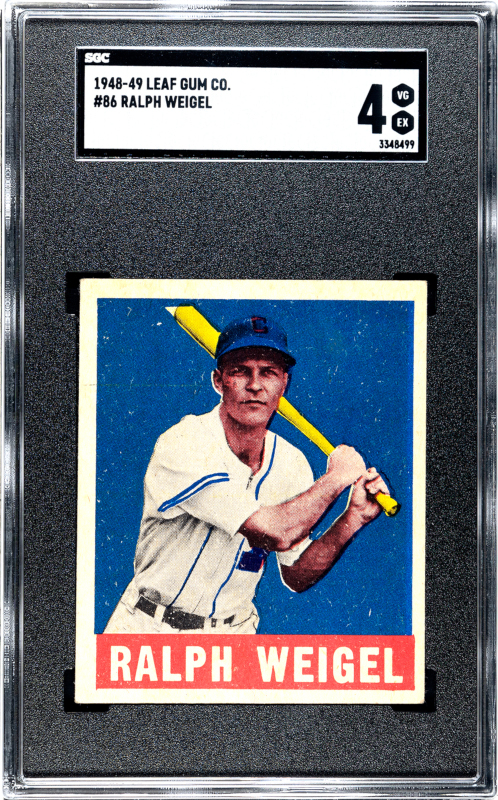 1952 Parkhurst Charlie Bishop
Fun fact: This guy was a super long-distance relative of mine. This minor league card was issued by a Canadian manufacturer better known for hockey cards. Typical early 1950s centering and moderate corner wear anchored my grading expectations to the realm of Very Good condition. There is the faintest wrinkle stretching a fraction of a centimeter from the bottom of the card, but I don't see it as being noticeable enough to bring the overall grade down any further. This flaw is invisible inside the SGC slab and was only visible in very specific light conditions prior to encapsulation. The condition is definitely a step down from the 1949 Leaf Sid Hudson card reviewed earlier but still within the very wide expanse of what is acceptable for VG condition cardboard. In typical fashion, the guy I bought it from advertised it as VG-EX.
Expectation: 3 Very Good (perhaps a 10% chance of 2.5 Good+)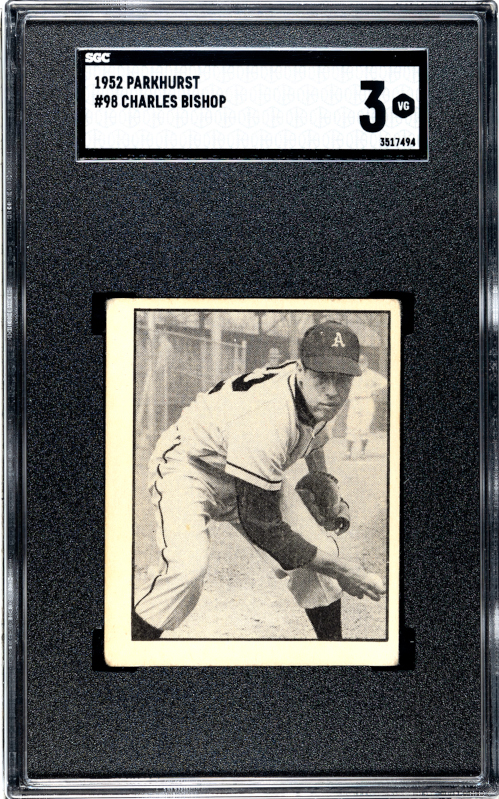 1955 Topps Double Headers Hal Newsome / Charlie Bishop
So far I am 5 for 5 in matching expectations to the actual grade received. This card, however, presents a bit of a challenge as I have never held an example from this set in my hands prior to my purchase of it in June. The card exhibits centering problems and some minor corner wear along with a faint gum stain. It also has a fold running across the upper third of the card, as was the style for the entire set. Topps Double Headers were initially distributed already folded over in packs of gum. Collectors in 1955 were encouraged to fold the card back and forth to reveal a pair of photos that would line up with a "shared" set of legs so that either image would look complete regardless of which way the card was folded. I had no clue how SGC would assess this feature.
Expectation: 3 Very Good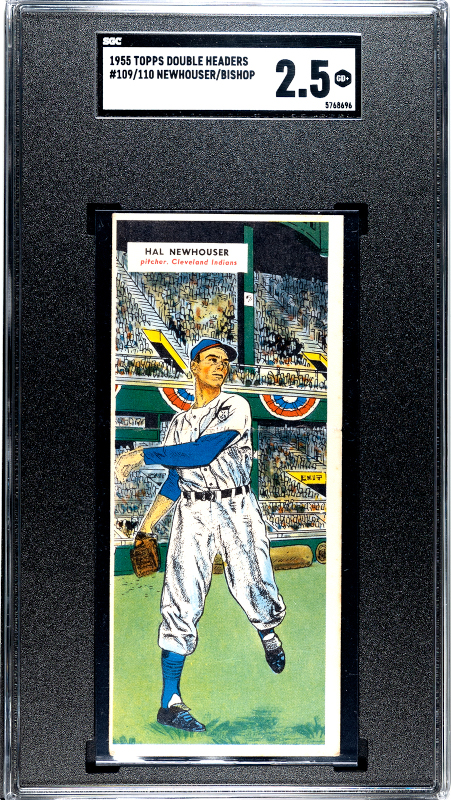 This card was encased in a larger slab than the others. SGC's pricing policy generally calls for higher fees when grading larger cards but no upcharge was encountered with this order. I was a bit optimistic on the grade, perhaps due to centering or the small gum stain on the back.
1993 Topps Finest Refractor Howard Johnson
I previously wrote about my experience sending this card to PSA. It came back as not meeting the minimum size requirement for grading, a problem frequently encountered with several names in the checklist. This one seems borderline for me, measuring about the same dimension as the Harold Reynolds refractor that PSA gladly slabbed for me two years ago. With that in mind, I sent this one to SGC for their opinion. I wasn't expecting an over the top, ultra-high grade given a tiny bit of wear on one corner, a modest refractor line, and acceptable but imperfect centering. I was very pleased when this card came out of the SGC box.
Expectation: 7 Near Mint (or Minimum Size Requirement not met)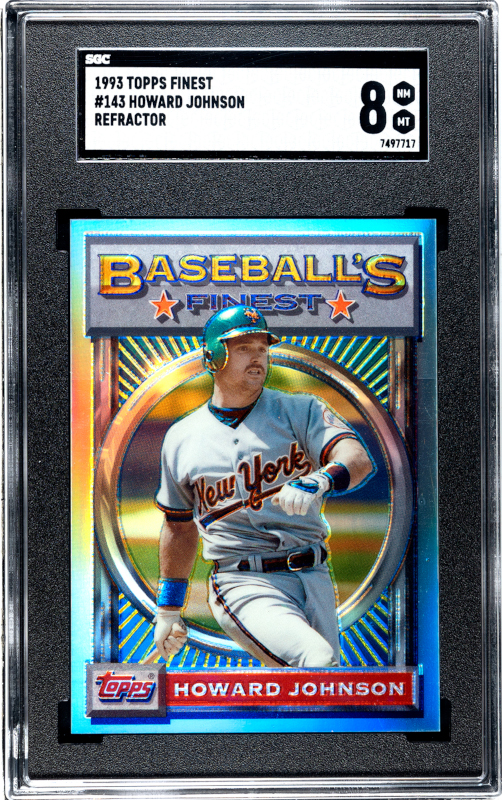 Reslabbing
The remaining three cards in this order were ones I had purchased in older SGC slabs. While each exhibited characteristics commensurate with their assigned grade, the cases were scratched and contained early generation labels that were up to 24 years old. They didn't match anything and looked sorely out of place with the rest of my collection, preventing me from looking at them for any real length of time.
I've never had a card reslabbed before and found conflicting information about the process in various online forums. The major grading services have all changed ownership over the years with much of the hobby generally concluding their grading standards have evolved over time. Would a Near Mint card graded in 1999 still be considered Near Mint today? Do grading companies completely grade a previously assessed card as if they are seeing it for the first time? Does SGC even reslab cards purely for aesthetic reasons given there was no damage to any of the cases beyond some surface scratches?
Each of the three cards in question came back with new slabs and grades identical to their previous holders. I don't know if a new evaluation was conducted for any of these cards, but I did notice my online order details had a newly added "minimum grade" requirement beside each serial number.
Here's how those cards turned out in their new cases:
1949 Leaf Bob Elliott (Excellent+)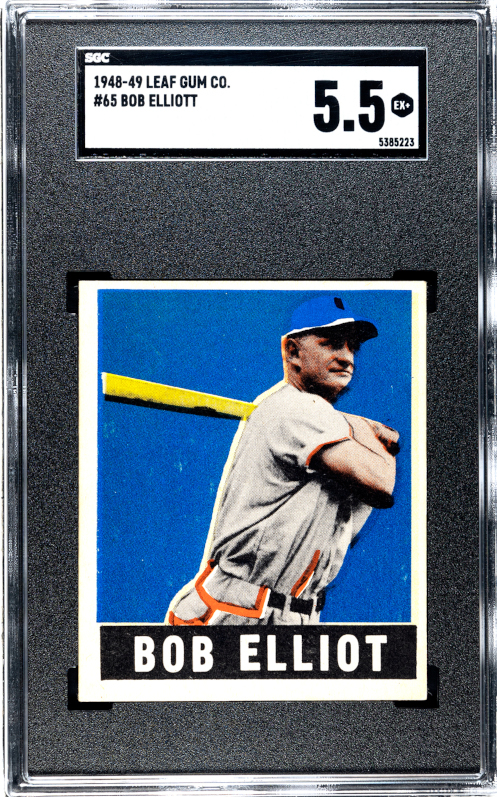 1949 Leaf Harry Brecheen (Very Good)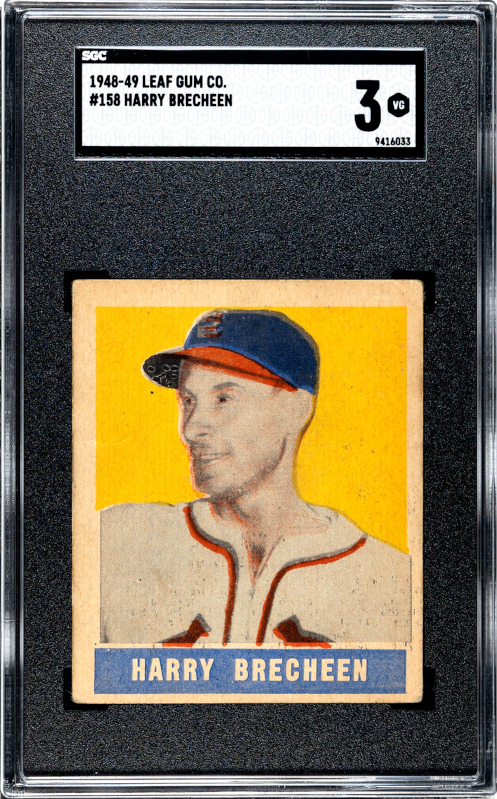 1957 Topps Frank Robinson (Near Mint)
This Frank Robinson was originally submitted to SGC in early 1999, making it one of the first cards ever reviewed by the newly established grading firm.