A power-hitting drought hit baseball after Willie Mays clubbed 52 home runs in 1965. It would be a dozen years before Reds' slugger George Foster tied the mark a dozen years later and the sport fell back into another run of sub-50 homer seasons. That changed in 1990, when Tigers first baseman Cecil Fielder unloaded on American League pitching with 51 home runs.
Fielder had shown some promise with a few partial seasons in Toronto, but the emergence of Fred McGriff limited his playing time. Seeking more opportunity to bat, he accepted an offer to play in Japan where he set to work hitting 38 home runs. MLB teams took notice and he was quickly lured back to the United States and given a starting position with the Detroit Tigers. His first full season resulted in a monstrous home run tally that excited fans.
Fielder had always been a power hitter, but the narrative was more along the line of a struggling player going to Japan and discovering how to unlock his hidden potential. The 1992 Tom Selleck film Mr. Baseball only added to the perception of self-improvement through Japanese baseball. Topps was well aware of the public mood when laying out plans for the 1993 Finest set. Following the story arc the company looked for other MLB players having breakout seasons in Nippon Professional Baseball. They found what they were looking for in Orestes Destrade, a 6'4″ Cuban who had just finished leading the league in home runs for the third consecutive year.
Destrade was acquired by the newly created Florida Marlins. He was a solid presence in 1993, hitting 20 home runs and driving in 87 runs, but didn't quite match the prolific numbers of Cecil Fielder. The following year his production tailed off and he was done. Destrade's appearance in the Baseball's Finest is entirely the result of three wonderful seasons in Japan, though he is remembered stateside as a hitter that generated negative WAR totals in every single season of MLB play. Hindsight is 20/20, and the process Topps was employing in 1993 made Destrade an interesting addition to the set given what was known at that point in time.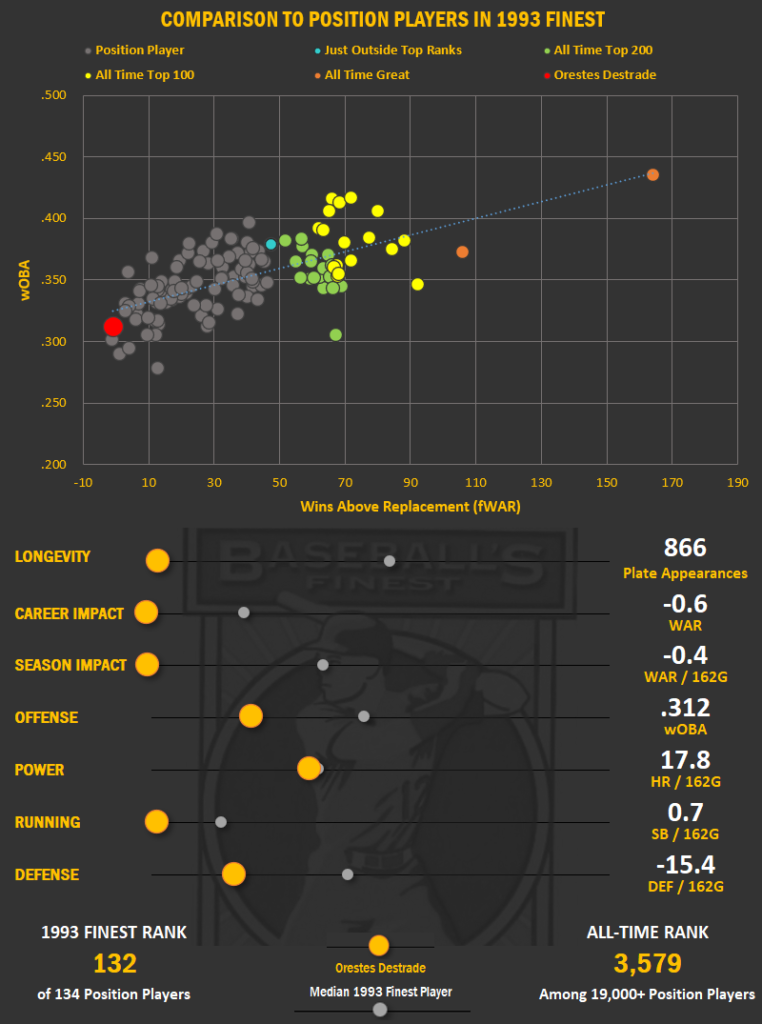 THE PAFKO EFFECT
Given how Destrade's career turned out, why are set collectors so eager to land this card? It's not because he now provides occasional commentary on ESPN, but rather something I call the "Pafko Effect."
Collectors of another classic set, 1952 Topps, have found that issue's Andy Pafko card to be insanely difficult to find in top condition. To this day there has only been a single Pafko graded by PSA as Gem Mint and no others higher than an 8 out of 10. There are simply many more high-end collectors chasing a handful of razor-sharp cards than there Pafko cards to fulfil the demand. The card itself is not scarce, but top condition examples are almost non-existent and can command prices well into the six-figures.
The Pafko card has been difficult to obtain in high grade for as long as collectors have chased the set. High prices for the few quality examples that change hands have influenced buyers of lesser-grade cards, prompting them to pay higher than normal prices for a card that should theoretically sell for as much as any other common from the set. This has a been a trend for '52 Pafkos that has persisted decades.
Destrade's '93 refractor is certainly not any more scarce than other common cards. However, like Pafko, the highest grade examples are seemingly impossible to find. The rise of PSA's highly competitive set registry focused collectors on edging out peers with slightly higher graded examples. For years there were no known Gem Mint Destrade cards, prompting collectors to pay up for ungraded copies in the hope of finding a diamond in the rough. The average condition of the 103 examples seen by PSA is slightly lower than that of other cards, indicating the potential presence of endemic centering or printing issues.
This is a tough card to obtain, not because of scarcity, but rather due to continued collector interest drummed up by a lack of top condition cards. I'm happy with my near mint copy, though I wish it had been a bit cheaper.