I enjoy surprising timeline comparisons. The spiky Stegosaurus is about as far removed in time from Tyrannosaurus rex as the last T-Rex is from humans today. Egypt's Cleopatra lived closer to the time of the moon landing than to the construction of the Great Pyramid of Egypt. Cardinals second baseman Red Schoendienst spent more years in a Major League uniform than had passed between the time he first put it on and the founding of the National League in 1876.
Schoendienst joined the Cardinals in 1945, played MLB ball until 1963, then worked as a coach, manager, and team executive into his 90s. The team "retired" his uniform number in 1996, though he continued to wear it in his capacity with the team. He was such a fixture in St. Louis that there is no longer a living memory of the team without him.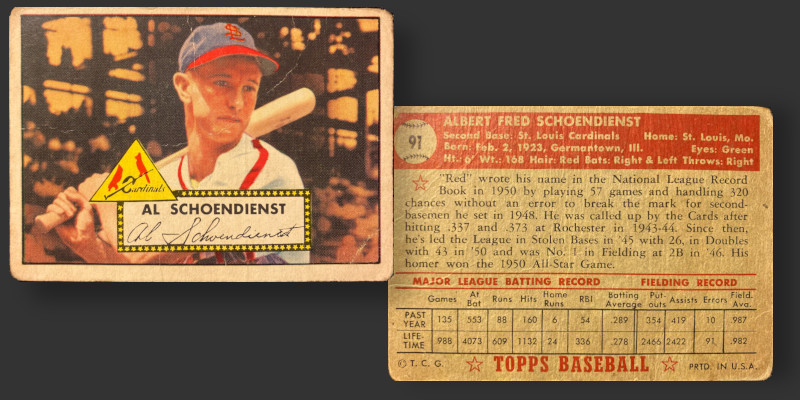 Today my kids like to tease us older people about our age. My daughter asked this week what life was like before I had electricity. I showed the kids the old video game Oregon Trail and they proceeded to warn their grandparents to "watch out you don't die from dysentery" when they were leaving our house. This Schoendienst card harkens back a bit to that era; he suffered several ailments that seem all but confined to history. In WW2 he hurt his shoulder firing a bazooka. You could almost add a reference to shooting an eye out with that weapon as well, as the shoulder injury combined with an already damaged eye to give him a medical discharge from the military. Schoendienst also missed much of the 1959 season after contracting tuberculosis and losing part of a lung in the process.
Hall of Fame
Schoendienst was elected to the Hall of Fame in 1989 by the Veterans Committee. He topped out at just over 42% of writers' ballots in 1980. In my mind his performance is more "Hall of Pretty Good" than Hall of Fame, but I can understand how his managerial record and longevity in the game weighed into the expanded scope of committee voting.