We're just hours away from the end of the 2023 baseball season. I was in Las Vegas earlier this year (future home of the A's) and placed a bet that Ronald Acuna would be the National League MVP, a choice I am feeling pretty good about at this point. I also placed a wager on the Angels winning the World Series, a decision that deserves almost limitless ridicule. I should probably pick up rookie cards of both Acuna and Shohei Ohtani, but I really don't have particular ones in mind. They have long careers in front of them, leaving plenty of time to eventually make a selection. No rush.
Speaking of not being in a rush, the year is almost over and I really need to start rebuilding my dilapidated deck. I have a truckload of lumber sitting a few dozen feet away that has now acclimated to the local humidity and seems amenable to absorbing some stain. The plan is to build this sucker during October and inaugurate it by inviting some neighbors over. The ones coming by all collected cards as kids and I have an unopened box of junk wax waiting for the occasion.
There were a few items of note in the world of baseball. Ronald Acuna joined the 40/40 club. The Athletics pretty much confirmed they will soon be in Las Vegas (I'm a fan of the move). Speedster Alex Cole died in August. Brooks Robinson passed this week. Ben Williamson, the William & Mary infielder I watched almost hit for the cycle back in April, was drafted in the second round by the Seattle Mariners and is now playing for their Single-A affiliate in Modesto.
In card collecting news there was a complete set of '93 Finest Refractors auctioned off by Heritage in July. Among other eyebrow-raising items changing hands was an SGC 9 example of the 1952 Topps Mickey Mantle. Jackson Merrill, the Padres' 2021 first round draft pick, apparently doesn't care about cards (or contractual obligations). He threw out all the cards and stickers he was supposed to sign for Panini.
Baseball Reading
My new role at work has eaten into my free time, somewhat reducing the pace of reading that I was planning for in 2023. Two baseball books were among those consumed during the third quarter. The most recent of these is David Maraniss' biography of Jim Thorpe, Path Lit by Lightning. Sure, Thorpe is better known as a football player but the fact is that he played professional baseball for a much longer period of time than what he spent on the gridiron. I had my eye on this one since it came out last summer. Our local library has several endowed acquisition funds dedicated to the history of sports and they made it a point to add this one to the stacks as soon as it was released.
The library also provided a copy of Joe Posnanski's Baseball 100. This book is one of those evergreen all-time compendium of player rankings, focusing on the 100 at the top of the list as viewed by the author. I compared my personal top-100 (yes, I keep a list) against Posnanski's and found fairly decent agreement. Our rankings overlap by 65%. Many of the players Posnanski included are ranked on my list just outside of the top 100, so we're not that far apart. He included more foreign and Negro League stats, elements that were incomplete when I last constructed my personal rankings, so there are perhaps a half dozen differences stemming from that methodology alone. My highest ranked position player omitted from Posnanski's list is Cap Anson while the highest ranked missing pitcher is John Smoltz.
Immaculate Grid
I've started playing Immaculate Grid, a sudoko-inspired baseball trivia game that is now part of Baseball Reference. Participants try to identify baseball players who meet two different criteria, such as having played for the Minnesota Twins and having stolen at least 30 bases in a season with the same club. Users compete to not only name 9 players meeting the named criteria, but to provide the 9 names least used by other participants.
If you haven't guessed by now, I tend to obsess about many of my interests and track all kinds of data about them. Immaculate Grid is not an exception. I have been recording and analyzing my scoring patterns since I began playing. Games are scored on a scale of 0-900 with the lowest of these "rarity scores" being considered better. I play each game without referencing any sources and average 7.8 correct answers out of 9. My average rarity score sits just below 200. Twice this month I have gotten close to single digits, including the 15-point grid below.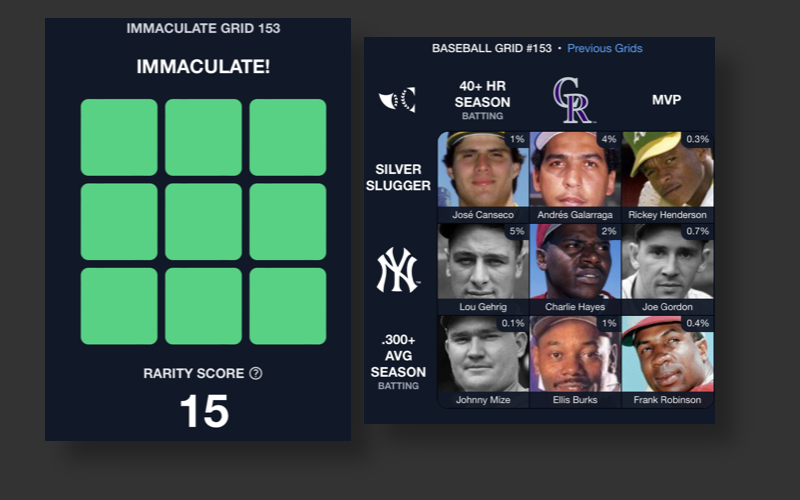 Ebb and Flow of the Collection
Two of my five active set building projects made progress since the beginning of summer. I also sorted through my duplicates, identifying some for resale and setting aside others as gifts for collectors who write about their interests. The couple dozen dupes that I am selling were received at COMC this week and will likely get listed in January. Between the addition of 18 cards and the potential sale of 24 others it looks like my card boxes grew a half dozen cards lighter over the past 3 months. I made a big purchase in June and will not be returning to my prior pace of acquisitions until next year.
1952 Topps: I added 12 cards, all but one of which were commons. The only name of note was an upgrade of my fair condition Robin Roberts. The new card ranks as VG-EX with one more corner intact that the one it replaces. Two of the newly added commons were from the second series, leaving only the Bill Rigney card as the final card needed to complete the series. I've never completed any series of a vintage set before and am looking forward to landing this one. With the deck project underway this is the only card I am planning to pick up through the end of the year.
1993 Finest Refractors: In a big move towards completion I picked up the set's Greg Maddux card. It's for real this time, as the one purchased on eBay in March turned out to be a misidentified base card. The new one is definitely the real deal and I was excited to learn who its previous owner was. I'll have more about that story when I write up the tale of the purchase next year.
Other Stuff: I welcomed five other cards to the collection since my last update. The biggest of these is a 1951 Topps Monte Irvin rookie, a card that I am amazed can still be found in fantastic condition for the price of a video game. I also picked up four mid-1990s Jose Canseco cards.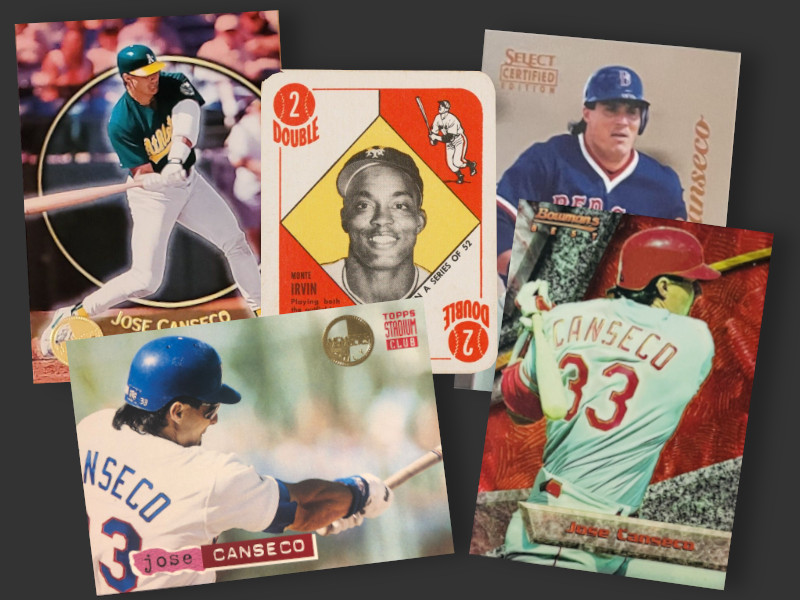 There was one additional card I purchased on eBay, only to have it never show up. The package tracking number shows it bounced around the sender's hometown for a week before being delivered right back to where it came from. I asked the seller about it and was met with a rather strident series of messages saying he had been paid by eBay so therefore the card must have been delivered to me. Seeing that this guy would be of no help, I went to the local post office and also called the seller's local branch. A redelivery to the seller was confirmed and I ended up being refunded by eBay. After quite a run of fantastic transactions I have hit a series of less than ideal sellers on that platform.
Cardboredom Updates
I am trying to get to a point where new additions to the collection are added to the site on an almost real time basis. I am also attempting to write about cards in the order in which they were obtained, so there is still the matter of a backlog of material to get through before I reach that point. Over the last three months I added 10 cards (net of condition upgrades) to my set building projects and wrote up profiles of 24, producing a net gain of 14 towards this goal. I still have about 110 to go and should catch up late next year if I stay away from eBay.
I have noticed that the search function of my site pulls in seemingly unrelated posts. This is in the process of being corrected and requires that I use a new naming convention for navigation-related images. I need to sit down for an hour or two and update those images and related links but just haven't found the energy to focus on that rather than some of the more entertaining aspects of this hobby. I'm hoping to wrap this up once the deck project is complete in the fall.